Kyoto is one of Japan's most popular destinations, attracting millions of visitors each year from all over the world. But what are the main attractions in Kyoto enticing so many tourists to explore the city?
As local experts, we love to share our insider tips with curious travelers. Join us on this digital journey through the best attractions in Kyoto, both the popular and lesser-known destinations we recommend you explore.
First, Learn More About Kyoto
We've written extensively about Kyoto, so we'd love for you to first learn more about the city and its exceptional cultural history before we jump into exploring Kyoto's main attractions.
Read about what Kyoto is famous for and be sure to take our tips for things to do in Kyoto at night. We're big foodies here at Pinpoint Traveler, so we highly recommend joining us for a Kyoto food tour!
We also have some suggested itineraries for seeing if three nights is enough to get a feel for Kyoto and, more broadly, to see how many days a tourist needs in Kyoto.
After brushing up on your general Kyoto knowledge, let's dive into our recommendations for the main Kyoto attractions you shouldn't miss. We've also included some of our personal local favorites that might not hit your typical Top 10 lists.
Without further ado…
The Main Attractions in Kyoto (Plus Local Favorites)
Arashiyama Bamboo Forest
The Arashiyama district is a must-visit while in Kyoto. It's one of our favorite areas of the city and boasts a variety of interesting attractions. The Arashiyama Bamboo Forest is certainly one you'll recognize from online images. But standing amidst these towering stalks is a truly surreal experience.
There is much more to see and do in Arashiyama, but the bamboo forest certainly qualifies as a main attraction.
Fushimi Inari
Certainly one of the main attractions in Kyoto is the Fushimi Inari Shrine. Famously boasting thousands of red gates, small and large, rising up the hillside, you've probably seen a million photos on Instagram depicting this popular destination.
Trust us: Fushimi Inari looks even more impressive in person than in the pictures you might have perused online.
But there's much more to explore on a Fushimi Inari tour beyond those red gates. Don't just snap a pic then carry on. Listen to the stories and insights only a local expert knows. We like to visit Fushimi Inari during our Kyoto private car tour.
Ginkakuji
Completed in 1490, Ginkakuji Temple is a beautiful Zen design. It's one of the main attractions in Kyoto and is therefore often quite busy. Try visiting early in the morning or later in the day to miss the crowds and instead enjoy the beauty.
Gion
Famous for its teahouses and geisha, the Gion is the entertainment district of Kyoto. A visit to the Gion is a must-see for Kyoto tourists, but don't overlook the awe-inspiring history of this part of Kyoto with its beautifully-preserved medieval architecture.
Higashiyama
Walking the streets of Higashiyama offers a glimpse into the past. With cars mostly banished, you could feel you've stepped back in time as you enter Kodaiji Temple to bask in the serenity of its gardens.
Ishiyama-dera
Ishiyama-dera is not one of the main attractions in Kyoto at all. But if you enjoy lush gardens and beautiful mountain vistas, then you'll wonder why this temple doesn't top the list. It's accessible by train for convenience, yet away from all the crowds entirely.
Kinkakuji
Often referred to as the Golden Pavilion, Kinkakuji is one of Kyoto's most-visited attractions. The temple rests beside a pond to enhance its shimmering design and is surrounded by lovely gardens to stroll.
Kinkakuji is a commanding presence in Kyoto. We like to take visitors to Kinkakuji during our Kyoto private tour to explore its history and to share more insightful commentary on its design and meaning.
Kiyomizu-dera
This Buddhist temple is another one of Kyoto's main attractions. Fun fact: there are no nails in this entire wooden structure! Kiyomizu-dera is also famous for its clear, pure water flowing from the mountains into the Otowa Waterfall. Each stream it's divided into is said to grant health, wealth, or happiness.
Want to learn more about the stories behind this famous structure? We would love to indulge your curiosity during our Kyoto private tour.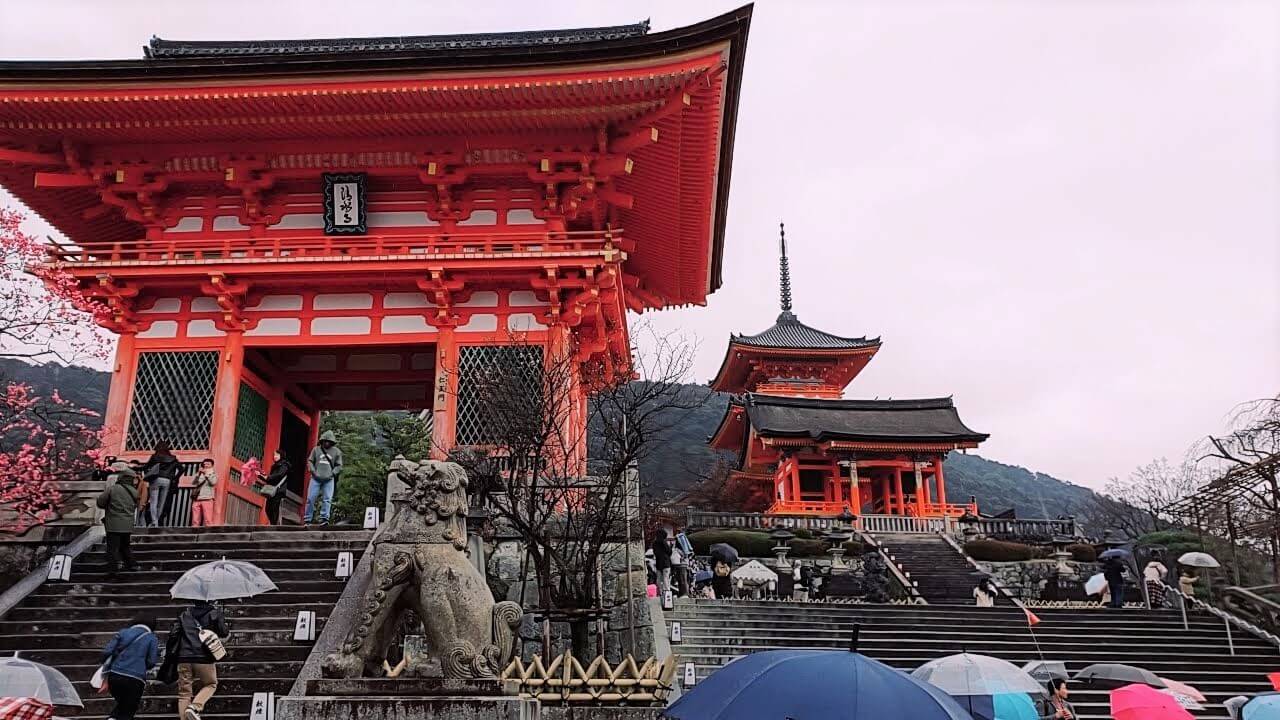 Kokedera
Kokedera is a temple offering serenity in spades, but do be sure to make a reservation first. Keeping the visitor count down through reservation-only entry ensures a more peaceful experience for all.
Kurama-dera
Kurama-dera is a lesser-visited temple along the northern edge of Kyoto. You can take the cable car up the mountain to reach the top, where hot springs and the temple both await you.
Nijo Castle
Nijo Castle is a top attraction in Kyoto. Designated a UNESCO World Heritage Site in 1994, the structure beautifully represents Japan's feudal period. Ninomaru Palace is at the heart of the Castle, while stone walls and deep moats surround the former royal residence.
Philosopher's Walk
From Kinkakuji, you can stroll along this 2-mile stretch to enjoy a number of beautiful shrines and temples, all while enjoying the quiet beauty of the canal. It's especially popular during cherry blossom season.
Ryoanji
Known to be the oldest Zen rock garden, Ryoanji is a favorite spot here at Pinpoint Traveler. This lovely property is never overly crowded, allowing visitors to truly bask in the serenity of the surroundings.
Tenryuji
Tenryuji is one of the temples we love to visit during our Kyoto private car tour, which begins in Arashiyama. As we said: it's one of our favorite areas of Kyoto! The spartan interior of the temple and the classic Japanese garden offer visitors a serene space to learn the traditional elements of such designs.
Uji
A visit to Uji should be on your must-see list for Kyoto. This tranquil area outside of the main hub of the city offers a small-town feel and a delightful respite away from the crowds. Ideal for learning about tea etiquette and culture, an Uji tea tour can be filled with warm welcomes, sweet treats, and a visit to the Byodo-in Temple. You may recognize it from the back of the 10 yen coin.
If you're ready to visit Kyoto, get in touch with any questions about our tours. We're always happy to cater to your schedule and interests with a custom itinerary.