Our Higashiyama Walking Tour
Being a mostly pedestrianized part of Kyoto, taking a Higashiyama walking tour is the perfect way to explore and understand this must-see district. Together with your English-speaking local guide, we'll stroll the streets at your pace and duck into some particularly atmospheric spots along the way. 
This private guided tour ensures your experience is rich and memorable, but we're not here to just list off facts and bore you. Our tours are interesting and fun, with an emphasis on local life that only a true local who loves this city could share.
The Perfect Kyoto Half Day Tour
Combining the must-see Kyoto sights of Fushimi Inari and the Higashiyama district creates the perfect half-day tour in Kyoto. You can expect to explore at your own pace, ask whatever questions you might have about Kyoto, and enjoy it all with a local who's passionate about sharing insights and interesting stories. 
However long your Kyoto trip might be, this half-day walking tour highlights some of the city's indisputable best spots!
Spending more time in the city? Why not join us for a Kyoto night foodie tour that's as all-inclusive as it is fascinating and fun! If you have even more time, we highly recommend an Osaka day trip from Kyoto. Even though the cities are just 45 minutes apart, they are very different! 
Have any questions about our tours? Reach out any time!
Our Kyoto Private Tour Overview
Dive headlong into both famous must-see sites and off-the-beaten-path gems with Pinpoint Traveler's half-day Kyoto private tour in the city's popular east side. 
You'll start your journey at the southernmost tip of the Higashiyama mountain range at the justifiably-famous Fushimi Inari Taisha (shrine). This sight is internationally-recognized for its thousands of mystical vermilion torii gates. 
But Fushimi Inari is not just about the gates. Visiting this part of Kyoto is also about understanding the history and culture that persists today at this very holy center of Japanese Shinto theology.
Exploring More of Kyoto
After your mini-pilgrimage to Fushimi Inari, a short train ride shifts us physically and mentally to an entirely different realm: the Gion entertainment district. It won't be nighttime, but that won't stop us from telling you what goes on in this colorful, infamous playground of the geisha and beyond. 
During this part of our walking tour in Kyoto, we'll pass by the awe-inspiring Kabuki Theater and through the main tea house strip of Hanami Koji Street. The beautifully-preserved medieval architecture in this area makes you feel like you've stepped straight into the Edo period (1603-1868). 
History is writ large in many parts of Kyoto, but part of what makes the Gion so special is that it continues to be an active part of modern day culture. Geisha still reside here and entertain their patrons in the various Houses to this very day.
A Walking Tour in Higashiyama
With cars largely banished, a walking tour in Higashiyama is largely a peaceful, atmospheric, and somewhat anachronistic affair. Stepping into Kodaiji Temple to bask in the serenity of its gardens, we take that state of mind to an even higher plane. 
The temple complex, which dates back to the early 17th century, hosts the mausoleum and remains of two heroes from the end of the late 16th century's Warring States period. The "Second Great Unifier", Toyotomi Hideyoshi, and his wife, Nene, have now been resting here for centuries. 
We will visit the last-remaining original structure, as well as an immaculately-preserved mausoleum, and then, for only 500 yen, you can opt to enjoy some fresh-whipped matcha (green) tea with a small sweet as you gaze out at the serene gardens. 
Continuing Your Private Kyoto Tour
Our private tour of Kyoto continues as we head to the most popular love shrine in the city, before heading up an ancient pilgrimage route to Kiyomizu Temple. 
From the entrance, you can see the thirteen meter drop from the platform above, supported precariously by large tree trunks. There are no nails in the entire structure! 
During the Edo period, many parishioners would jump off the platform in the belief that, if they survived, their wish would be granted. There was an 85% "success" rate, but the practice was nevertheless banned in 1872. 
The temple is also famous for its clear, pure water flowing from the mountains into the Otowa Waterfall. You will have the opportunity to sample some of that pure water yourself. Each stream it's divided into is said to grant health, wealth, or happiness. Choose wisely, for greedy people will have none of their wishes granted. 
Before you enter the temple grounds, your guide will explain all this and more, but will then leave you to explore the temple at your leisure.
Shintoism, geisha, Buddhism, gardens, and local shops: We've got it all lined up for you on this well-paced Kyoto walking tour. Why just go through the motions with the masses when you can learn so much about both the past and present along the way? We hope to be granted the privilege of sharing our Kyoto with you.
Quick Tips for Our Kyoto Private Tour
There are a few things we'd like you to take note of before joining us.
Please come wearing comfortable shoes. We do a fair bit of walking. For those who wish to avoid too much walking, please let us know in advance and we will make our best attempt to suitably modify the itinerary.

We'll be outdoors most of the time, so do keep the weather in mind

While we do explain Kiyomizu Temple thoroughly and walk you all the way to the entrance, in order to focus on some less-accessible aspects of the tour route, we end our four hours with you before going in.
Inclusions:
Admissions (except Kiyomizu Temple, which you may choose to enter after the tour ends)

All guide costs

Transportation while on tour
Exclusions:
Food, drinks, incidentals
Options:
Pickup can be arranged by request. This means we will gather you about 30 minutes before tour start (we'll confirm the timing based on your location). Fees below do not include your transportation cost, but we can tell you exactly how much that will be once we know your location. Prices below are for the entire group.

Within central Kyoto: 5,000 yen

Other areas: Please inquire.

Extensions are available at 4,000 yen/hr. Please discuss how you would like to use extra time with us in advance.
Historic and Cultural Landmarks
This tour proffers up a breadbasket of historical and cultural landmarks that's hard to beat! Literally everywhere we go is dripping with history and stories. Be it from just a few hundred years ago (not so long ago in the eyes of Kyoto people!) to, in the case of Fushimi Inari, around a thousand years ago, we've got some heavy-hitter landmarks to share with you.
Easy Access
We'll start our day at either Fushimi Inari Station (Keihan line) or Inari Station (JR line). Just let us know which is better for you – or tell us where you're coming from, and we will advise.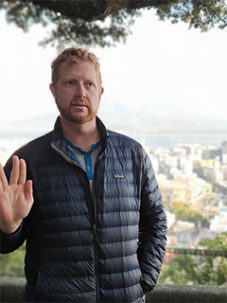 Kevin
We think it's important that everyone who works for Pinpoint Traveler is an active guide too, even the owner. Kevin's been in Japan thirteen years, but spent the first ten in the corporate world. Now he shares his love for Japan outside the confines of the office.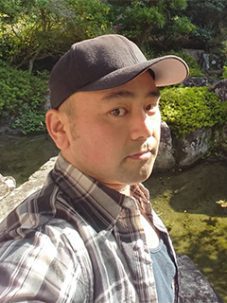 Shoji
Born in Japan, but moved to Canada when he was still quite young, Shoji is back and ready to share is passion for Japan with you. His main dominion is Osaka and on down to Koya-san and Wakayama, but he's such a popular guy that we often send him even further afield by request.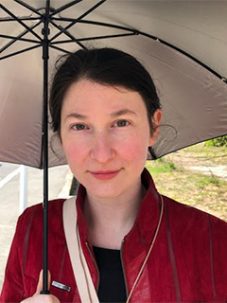 Mardi
Mardi's our Kyoto guide-in-chief, and her love for the city is infectious. She's got an uncanny ability for giving people just the right amount of information while still ensuring the tour stays light and fun. Be it temples and shrines, gardens, or nightlife, Mardi's your gal.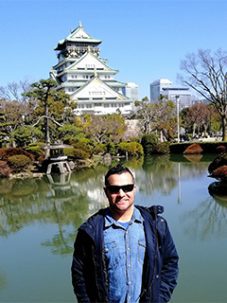 Dan
Dan is a Spaniard, so of course his Spanish is native level, but his English is fantastic as well. He's got a warm personality and consistently makes our guests feel like they've made a new friend within minutes of meeting him. He also knows Osaka and Kyoto like no one's business!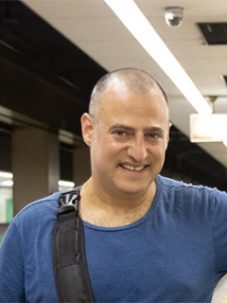 Levy
With nearly twenty years in Osaka, Levy's got this place WIRED. He's a major samurai and history aficionado, and in addition to knowing all the top sights like a true pro, he knows Osaka's nightlife better than (dare we say it!) the vast majority of Japanese who call Osaka home. Levy's originally from Israel, and runs tours in Hebrew too.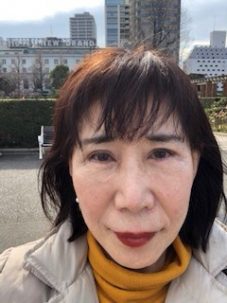 Suzie
Suzie is Japan born and raised, and we can't recommend her enough for tours in Tokyo and Yokohama. Our prior guests frequently say nicer things about Suzie than any of our own mothers have said about us! The consummate pro, she's not just got all the info, but also an uncanny knack for knowing what to show our guests.