Osaka Private Tour
An Osaka Day Trip from Kyoto
An Osaka tour from Kyoto is the perfect way to explore the differences between these neighboring cities in the Kansai region. While Kyoto boasts endless temples (you can, honestly, tire of visiting temples), Osaka boasts huge character! We could be a bit biased since Pinpoint Traveler is based in Osaka, but this city offers fantastic food, a fun vibe, and wonderfully outgoing people. Join us for a private day tour in Osaka from Kyoto and we'll show you the best and brightest the city has to offer.
If you're basing yourself in Kyoto for a few days, be sure to check out all our Kyoto tours (we definitely recommend the food tour). And if you're interested in seeing more of Osaka, take a look at our other Osaka tours to keep exploring. 

For those seeking the ultimate in convenience, you can choose to add private pick-up and drop-off options for your central Kyoto lodgings. If you're looking to save some cash, you can take the train from Kyoto to Osaka, booking this tour with an Osaka starting point instead. You'll see all the options you might need during booking, but do feel free to reach out if you need any help sorting through the choices!
Our Osaka Sightseeing Tour
Whether we pick you up in Kyoto or at an Osaka train station, we'll fill our Osaka sightseeing tour with visits to Dotonbori, Osaka Castle, Shin-sekai, a view from high above, and more! Throughout the day, you'll get local insight and commentary from a true Osaka resident's viewpoint, giving you a glimpse into life here in this thriving urban area. 
You can enjoy this Osaka tour at your own pace with your own high-quality vehicle and personal driver/guide. We can be flexible and change things up if you have something specific in mind!
For those really intent on maximizing their Osaka experience, add on our super fun Osaka foodie tour at a 10% discount when you book it with your Osaka day trip! Just let us know after booking your Osaka Best and Brightest, and we'll hook you up with the discount.
Does this look like fun? Book tickets today!
Our Osaka Tour from Kyoto
We'll be the first to admit it: Being based in Osaka, we are absolutely biased that this city is awesome! We certainly encourage you to visit Kyoto and of course you have to tour Tokyo. But you really can't miss out on Osaka's fun character when you visit Japan. 
This day tour from Kyoto to Osaka has been carefully designed to help you see the best and brightest in the city, but that certainly doesn't mean we can't be flexible. We're aiming for a balanced flow to your day, without rushing around and pointing you towards every touristy location. We'll certainly take you to the famous Osaka Castle, but we'll also take you to an oft-overlooked temple on lovely, spacious grounds that represents an older era of temple construction than what you find in Kyoto. 
There are also views aplenty during this Osaka sightseeing excursion, plus as much boisterous Osaka-style entertainment and shopping district as you care to enjoy. 
We can offer plenty of choices for your Osaka day trip. Maybe you want to see Osaka's famous cutlery and perhaps even buy some. Or maybe you're interested in visiting a quiet garden or two. How about comparing our landmark Shinto shrine versus the Buddhist temple on our itinerary? 
Just let us know. This is your Osaka sightseeing trip!
Osaka's food is famous for good reason
One thing we just can't deny you is exposure to the famous food culture of Osaka. We're happy to take you to an Okonomiyaki place for lunch, or something else you might enjoy more. 
We don't have a fixed tour-stop restaurant, but we do have local knowledge, so we're happy to consult with you when lunchtime comes around. 
But it's not just about eating (while still being about food): Over the course of your day, you'll be shown one or two food markets and, if you're interested, Doguyasuji, which is a restaurant supply district famous with visitors and locals alike.
Easy as pie (or Okonomiyaki)
Having visited many of Osaka's best things to see and do (and maybe even a few write-ins as well), it will be just about time to wrap things up. Hopefully, Osaka not only lived up to your expectations, but you now LOVE our city! 
This was, of course, our plan all along.
If you're interested in adding on a bit more time and thrill to your adventure, there's our Osaka night tour. The night tour goes to completely different neighborhoods as the day tour, and shows a very different scene. We think it's just about the closest you can get to being a local. 
You can add it to this tour at a 10% discount! Just be sure to select the Discounted Osaka Night Tour as an optional extra during check-out for this Osaka day trip.
Does this look like fun? Book tickets today!
There are a few things we'd like you to take note of before joining us.
Please wear shoes for walking. It's a car tour, but a fair bit of walking is an unavoidable fact of life in the big city. If you wish to temper or avoid walking as much as possible, please let us know in advance and we'll modify the itinerary to suit your needs.

The tour defaults to an 8:30am start time. We can move that time around a bit if you like. Please just drop us a line if you're interested in doing so.

The tour time is 9 hours if we start and end in Kyoto; it will be 7.5 hours if we start and end in Osaka.
Inclusions:
Pick-up and Drop-off at an Osaka train station (we can discuss exact meeting points based on your Kyoto lodging)

All vehicle costs
Exclusions:
Food and drinks

Admissions (which will range from zero to a few hundred yen or so, depending on if you change the plan)

Extra fees may be levied if an itinerary change on your Osaka private tour incurs a significant cost for our guide or vehicle. We will work that out in advance with you.
Options:
Hotel pickup and drop-off in central Kyoto.

10% discount on the

Osaka Night Foodie Tour

when booked together – let us know and we'll get you the discount.

Extensions are available for an additional 5,000 yen/hr. Please feel free to inquire about this in advance.
Historic and Cultural Landmarks
We'll visit the iconic Osaka Castle, which is a grand symbol of the city's history and a testament to the immense power of the city in generations past. And of course we'll explore the popular areas of Shinsaibashi and Shin-sekai. Exploring Japan's oldest and most iconic Buddhist temple certainly deserves a mention, too!
Easy Access
We'll pick you up and drop you off at a convenient Osaka train station for your transfer to Kyoto. Or you can add the optional Kyoto vehicle transfer to make things even easier!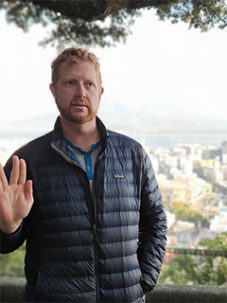 Kevin
We think it's important that everyone who works for Pinpoint Traveler is an active guide too, even the owner. Kevin's been in Japan thirteen years, but spent the first ten in the corporate world. Now he shares his love for Japan outside the confines of the office.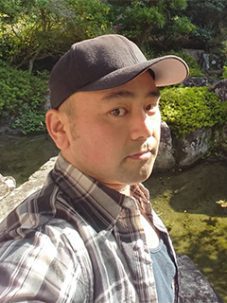 Shoji
Born in Japan, but moved to Canada when he was still quite young, Shoji is back and ready to share is passion for Japan with you. His main dominion is Osaka and on down to Koya-san and Wakayama, but he's such a popular guy that we often send him even further afield by request.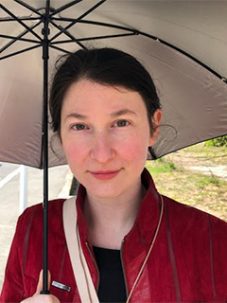 Mardi
Mardi's our Kyoto guide-in-chief, and her love for the city is infectious. She's got an uncanny ability for giving people just the right amount of information while still ensuring the tour stays light and fun. Be it temples and shrines, gardens, or nightlife, Mardi's your gal.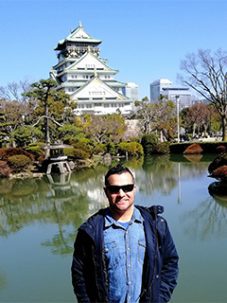 Dan
Dan is a Spaniard, so of course his Spanish is native level, but his English is fantastic as well. He's got a warm personality and consistently makes our guests feel like they've made a new friend within minutes of meeting him. He also knows Osaka and Kyoto like no one's business!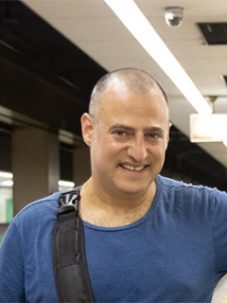 Levy
With nearly twenty years in Osaka, Levy's got this place WIRED. He's a major samurai and history aficionado, and in addition to knowing all the top sights like a true pro, he knows Osaka's nightlife better than (dare we say it!) the vast majority of Japanese who call Osaka home. Levy's originally from Israel, and runs tours in Hebrew too.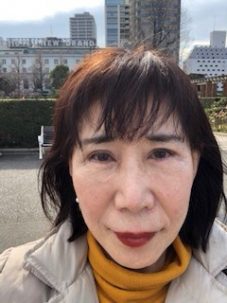 Suzie
Suzie is Japan born and raised, and we can't recommend her enough for tours in Tokyo and Yokohama. Our prior guests frequently say nicer things about Suzie than any of our own mothers have said about us! The consummate pro, she's not just got all the info, but also an uncanny knack for knowing what to show our guests.