If you're planning a trip to Kyoto, you might be trying to figure out the best time of year to visit. With a variety of fascinating festivals and fun events throughout the year, you may want to time your visit to coincide with one or a few of those celebrations. Alternatively, you might prefer a quiet visit, aiming to avoid the bulk of the tourist crowds for a more local look at life in Kyoto.
Whichever type of traveler you are, we are happy to help you plan your visit to Kyoto with our local insight and expertise. We offer a number of Kyoto tours for culturally curious visitors who want to learn more about the history, etiquette, and cuisine that make this city so special. Care to join us? Reach out with any questions and we'll happily help you book the perfect tour for you.
For now, let's review the best time of year to visit Kyoto based on weather and events, so you can choose for yourself.
Our Local Advice for Visiting Kyoto
As local travel experts in Kyoto, we have our own thoughts on the best time to visit. The city's global fame certainly attracts large crowds at peak times, which changes the feel of the city altogether. To bask in the serenity of Kyoto's famous temples and shrines, you cannot be surrounded by massive crowds.
If you opt to visit Kyoto during the busiest seasons, then we recommend you visit the most popular sights very early in the morning or in the evening, whenever possible.
If you can arrange it, we recommend you plan your Kyoto visit for late May or late November, as those times offer a reprieve from the most extreme temperatures while also benefiting from dissipating crowds.
Find out more about the main attractions in Kyoto so you can time your visit well.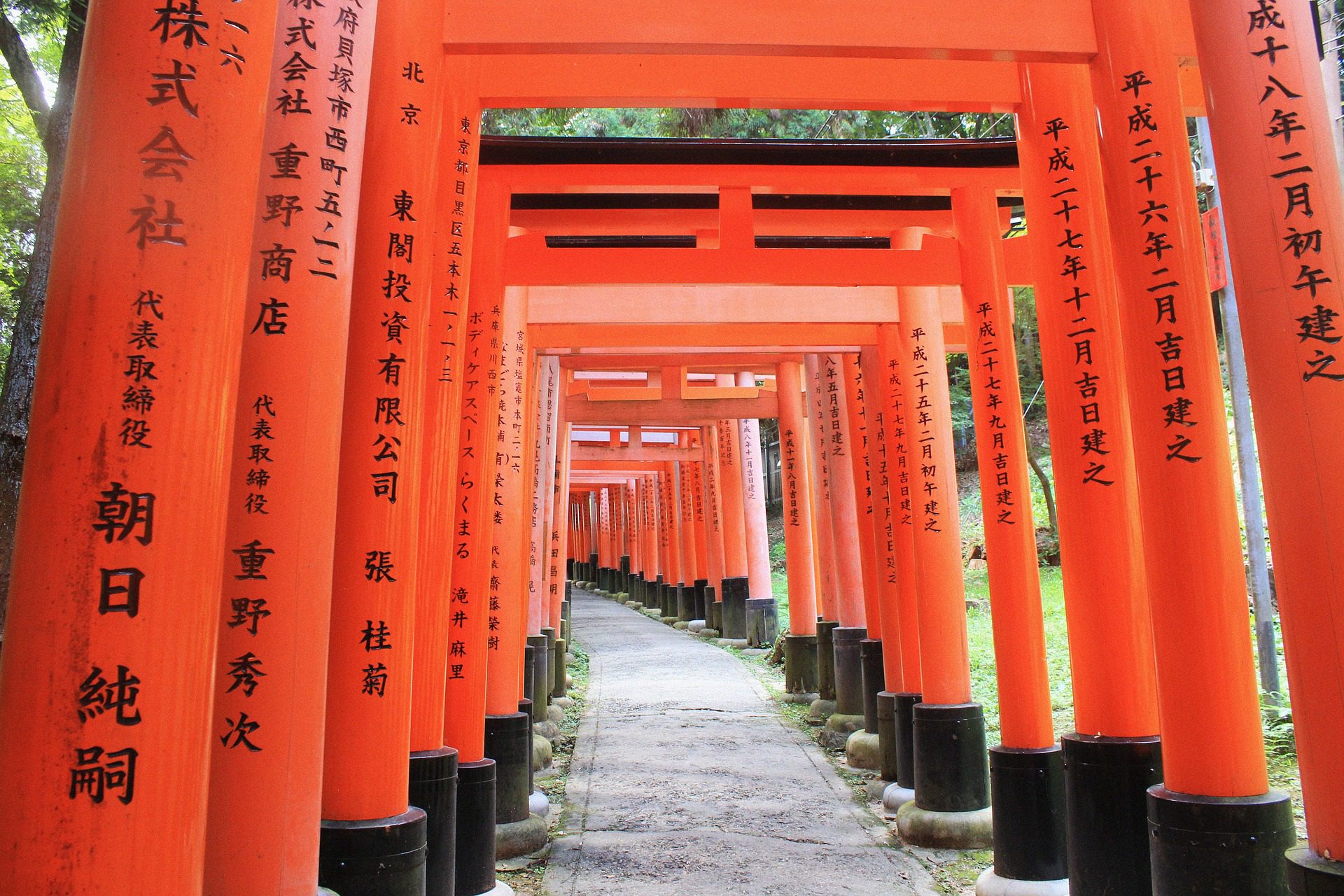 As a brief introduction, from the end of March through mid-April in Kyoto, you can see the world-famous cherry blossoms. If you prefer autumn colors, the end of November is best.
If you don't mind the heat and humidity of mid-summer, then come to Kyoto for the Gion Matsuri festival in July. It's the biggest event of the year and quite the cultural education for visitors. Started in the year 869, Gion Matsuri was originally part of a purification ritual meant to appease the gods during an epidemic.
The busiest times of year to visit Kyoto are spring and autumn, as tourists pour in to see the iconic cherry blossoms and then those vibrant autumn colors. Golden Week is an astonishingly busy week as domestic tourists combine with international tourists to fill Kyoto's accommodation options.
If you intend to visit Kyoto during the peak times, you must plan well in advance. Accommodations fill up quickly, as do our various Kyoto tours.
Spring Weather in Kyoto
Springtime in Kyoto means flowers blooming and temperatures heating up. You can expect low 20s Celsius (60s – 70s Fahrenheit), with an increasing chance of rain as summer approaches.
Plum blossom season begins about a month before the cherry blossoms bloom. While not as famous, the fragrance during this time is stunning and the deeper pinks and purples offer quite the visual treat.
Cherry blossom season is typically the end of March through mid-April. Of course, great beauty is often ephemeral, and we usually enjoy a mere two weeks of their full bloom.
As the timing of peak blooms can vary each year, there's no perfect way to confidently book a trip just for these views. However, if you miss the majority of the cherry blossoms, May is still a time of floral beauty and lush green gardens in Kyoto.
Summer Weather in Kyoto
In Kyoto, spring continues until the end of May, which is when the rainy season, or tsuyu, begins. This typically runs until around July 10th, and then we say summer starts; tsuyu and summer are distinctly different seasons here. Summertime in Kyoto means high heat and humidity. If you opt to visit during this season of festivals, do take care and be sure to stay hydrated.
Summer temperatures are steadily in the 30s Celsius (80s – 90s Fahrenheit).
Autumn Weather in Kyoto
Autumn in Kyoto means changing leaves on the ubiquitous maple and other deciduous trees throughout the city and into the mountains. These bright colors attract international and domestic visitors, so be prepared for crowds to return.
If you can plan your visit toward the beginning of November, you'll catch the beautiful colors while avoiding the bulk of the crowds.
Temperatures are very comfortable, usually in the low 20s Celsius (60s – 70s Fahrenheit), cooling down in the evenings and as winter approaches.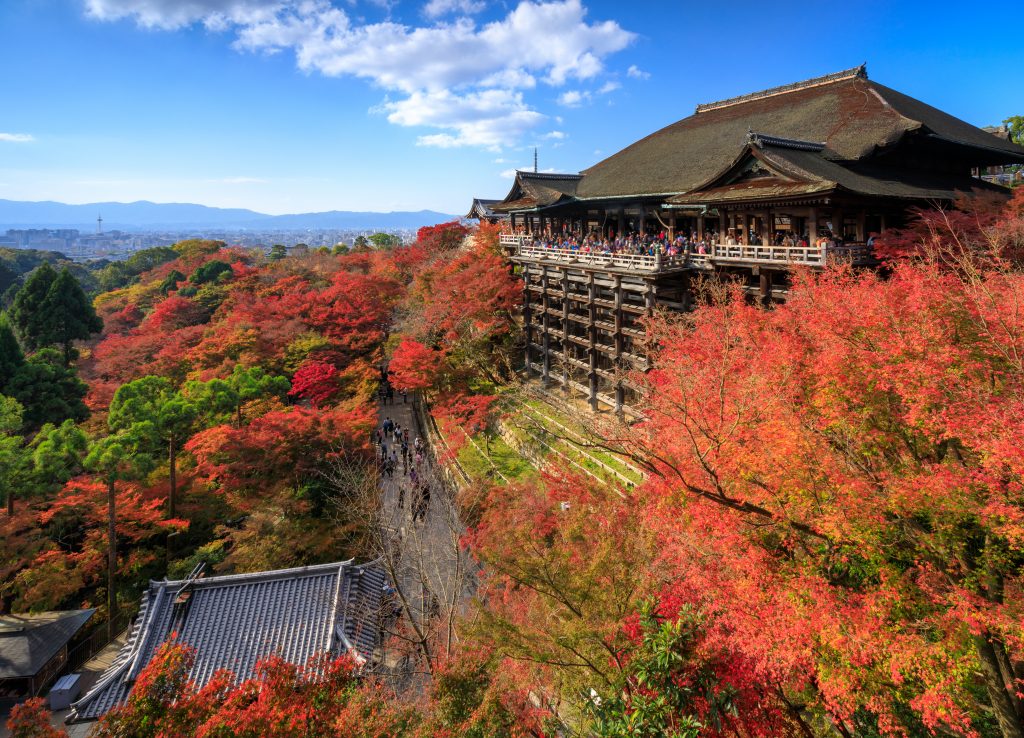 Winter Weather in Kyoto
While winter is not the most popular time of year to visit Kyoto, you might want to consider it. An off-season visit means much smaller crowds and an opportunity to get more intimately acquainted with the city. Tourist crowds sometimes really throw a wrench in the introspective and almost meditative vibe at many of Kyoto's temples and gardens.
January is often the sunniest month of the year in Kyoto. Although it will be cold, bright blue winter skies make for a lovely backdrop to the shrines and temples, with far fewer people to impede your appreciation of each landmark.
If you're lucky, you might see a light dusting of snow falling over these magnificent structures, creating a truly magical scene.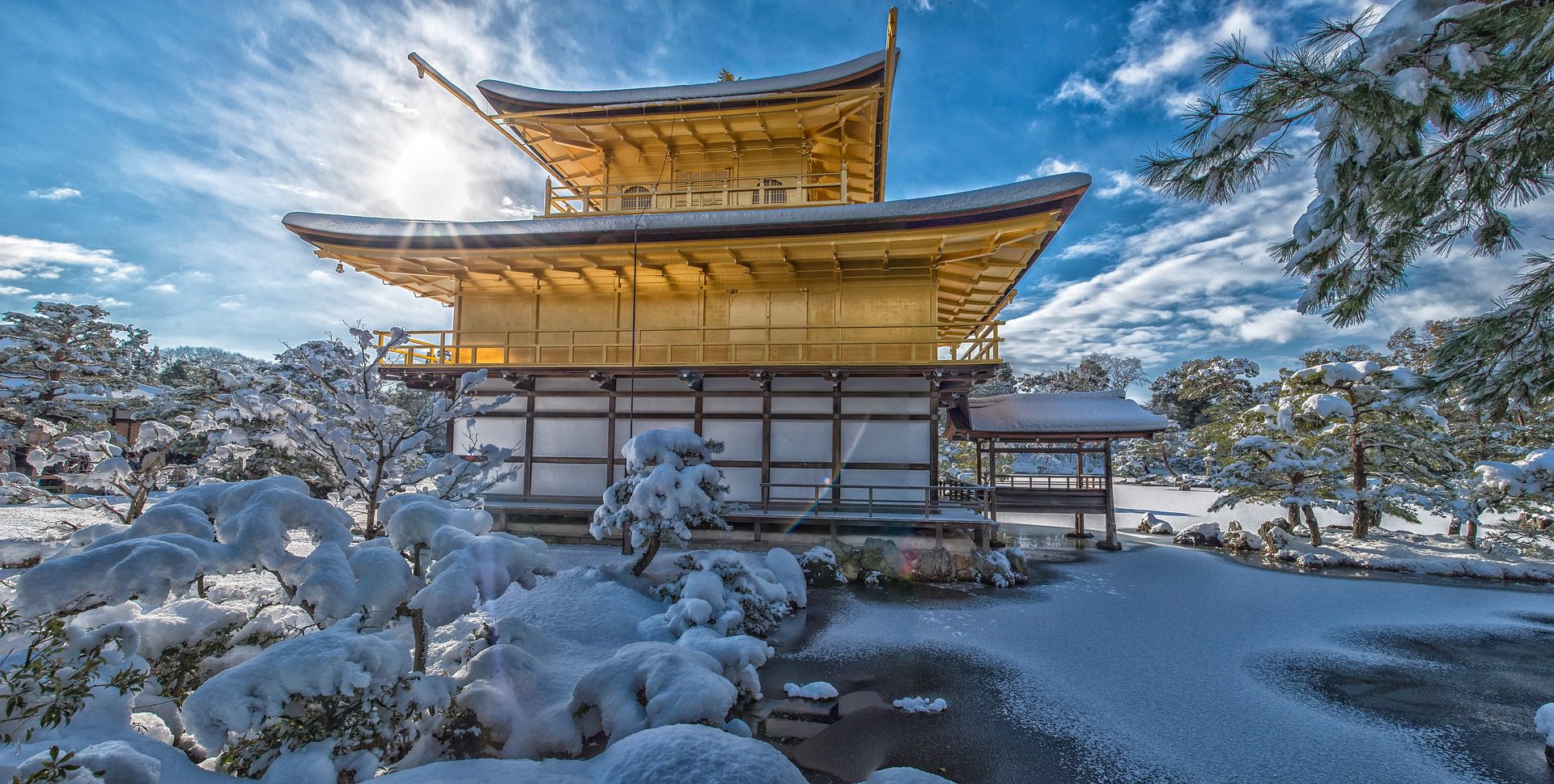 Visit Kyoto for Annual Events Throughout the Year
To help you plan your Kyoto visit, here are some of the best annual events happening in the city. You may want to specifically plan your trip to experience one (or a few) of these. Or perhaps you'd prefer to specifically avoid these times to enjoy a quieter — and cheaper — visit.
January:
Hatsumōde: The first shrine visit of the New Year
Toshiya Archery Contest at Sanjusangendo Hall
February:
Setsubun Matsuri at Yoshida-jinja Shrine: A fantastic fire festival with a large bonfire
Sakura's less popular cousins, the plum blossom trees, burst into glorious pinks and purples (end of the month)
March:
Sakura (Cherry blossoms) season begins
Higashiyama Hanatoro: Lanterns line the streets of the Higashiyama District, plus temples and shrines are illuminated and offer later closing times as well
April:
Hanami (Cherry blossom viewing)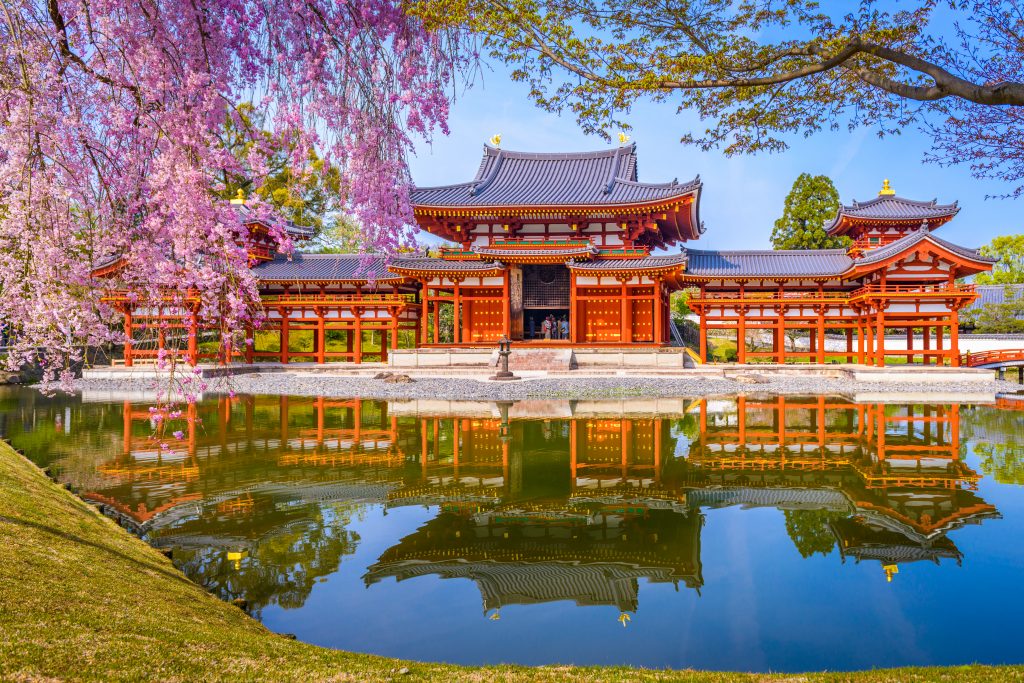 May:
Golden Week: Most Japanese have the first week of May off work, so expect larger crowds at tourist attractions
Aoi Matsuri: One of Kyoto's biggest festivals, which began in the 7th century
June:
Takigi Noh at Heian-jingu Shrine: Traditional music theater performances amidst burning torches in an open-air setting
July:
Gion Matsuri: The biggest festival of the year! Events happen all month long, but the grand procession occurs on July 17th.
Thinking of visiting Kyoto for Gion Matsuri? You should join us for an Osaka tour from Kyoto to explore our favorite city in the region! You could also stay in Osaka to enjoy Tenjin Matsuri the week after Gion Matsuri.
August:
Daimonji Gozan Okuribi: A fire festival in the mountains
September:
No major events, although you might be able to catch a Moon Viewing at one of the temples.
October:
Jidai Matsuri: The Festival of the Ages includes a parade of people in period dress
Kurama No Hi Matsuri: Another fire festival, this time in the village of Kurama just north of Kyoto
November:
Prime time for kōyō season (autumn colors)
December:
Arashiyama Hanatoro: Like Higashiyama Hanatoro in March, lanterns line the streets and the river in the Arashiyama District. For 10 days, you can enjoy this atmospheric event, with even the bamboo grove behind Tenryuji-in being illuminated.
So, when do you think is the best time of year to visit Kyoto? Whenever you visit, you'll certainly be awed by the stunning architecture and depth of history in this former imperial city. We would love to share more insights with you during your visit. Check out our Kyoto tours to explore the popular sights, as well as our favorite lesser-visited gems.