We're not going to deny that Tokyo is, well, Japan's flagship urban product of sorts. We're also not in the business of denying the historical and cultural spectacle that is Kyoto. We love both those places, but urge our visitors to not overlook the splendor that is Osaka. However, for many it simply is not very obvious where to delve into the city's goodness (and grittiness, if you like). So what are interesting things to see and do in Osaka? Read on to get the lowdown. And we promise not to tell Tokyo what you're up to.
Dotonbori and Namba. You're definitely going there.
We'd be remiss not to include the epicenter of shopping and entertainment as one of the interesting things to see and do in Osaka. After all, it seems like all roads (or rather, train and subway lines) lead here, bringing locals and visitors alike to this flashy playground for ostentation. Dotonbori is not just the name of the area, but also the name of the bisecting canal. You can take a slow moving boat ride down and back the canal, just so long as you have no expectations of a Venetian-like experience. It's not going to be anything like Venice.
The dazzling colors, carnival of sounds, bustling crowds and food smells duly take you along a fun if mainstream ride through the district. But don't stop there. You should also check out some of the narrow backstreets, and off the beaten track temples and shrines like Hozen-ji. The food options are also seemingly endless, but best to choose a place with an English menu outside, lest you end up with something totally unexpected. Unless you want the unexpected.
Climb the ramparts of Osaka Castle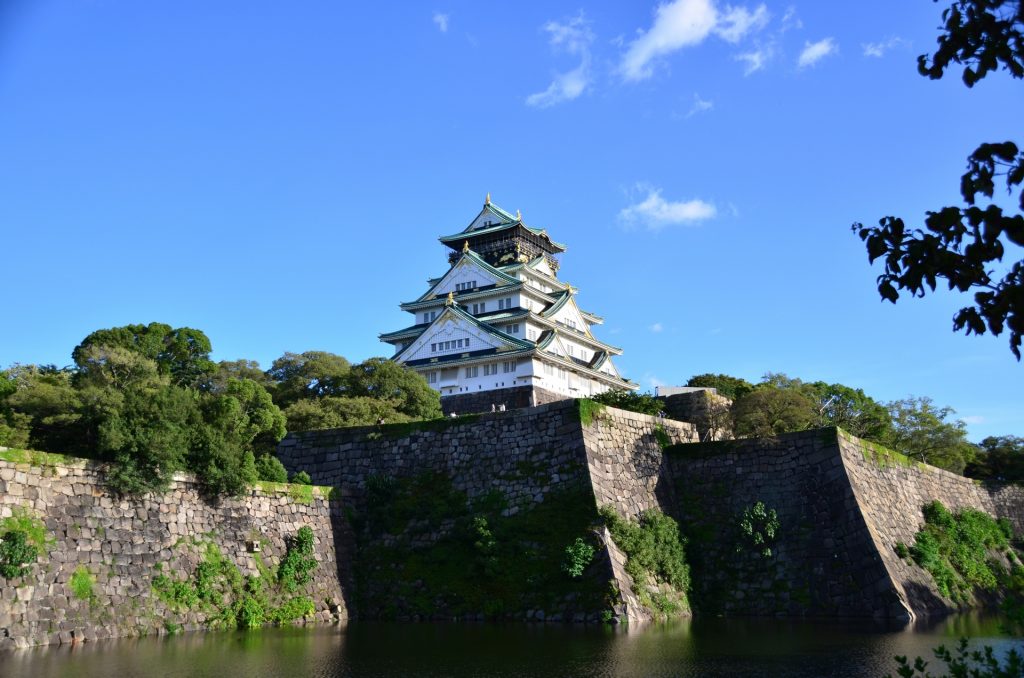 OK, don't climb them. Just walk through the doors cut out of the huge stone walls. It'll be much easier that way. Once you've gotten across the moats and to the other side of the walls, you'll be rewarded with a great view of the castle. The exterior of the castle was impressively recreated after its sad WW II demise, even if they used concrete. The elegant design and gold trim leave a lasting impression for sure. Still, the surrounding park is half the beauty of the visit, so don't forget to allow time for that too! One place where you can save some time (and a little cash) is by not going into the castle itself. It's a disappointing museum of sorts, and the interior looks absolutely nothing like the original castle did. Plus waiting for the elevator is a real drag. Embrace the illusion of facades and be a happier person for it.
We recommend walking to the castle from Tanimachi 4-Chome subway station (use exit 2). Being on the higher elevation end of the compound, you'll save some walking energy. After working your way through the park and castle compound, finish at Morinomiya Station. Here you'll find both the JR Loop Line and the subway. If you're ready to get more local, do like our walking tour does and ride JR a few quick minutes south to Tsuruhashi Station. Then brace yourself for an anachronistic adventure.
Tsuruhashi is one of the most interesting things to see and do in Osaka – and almost no one goes there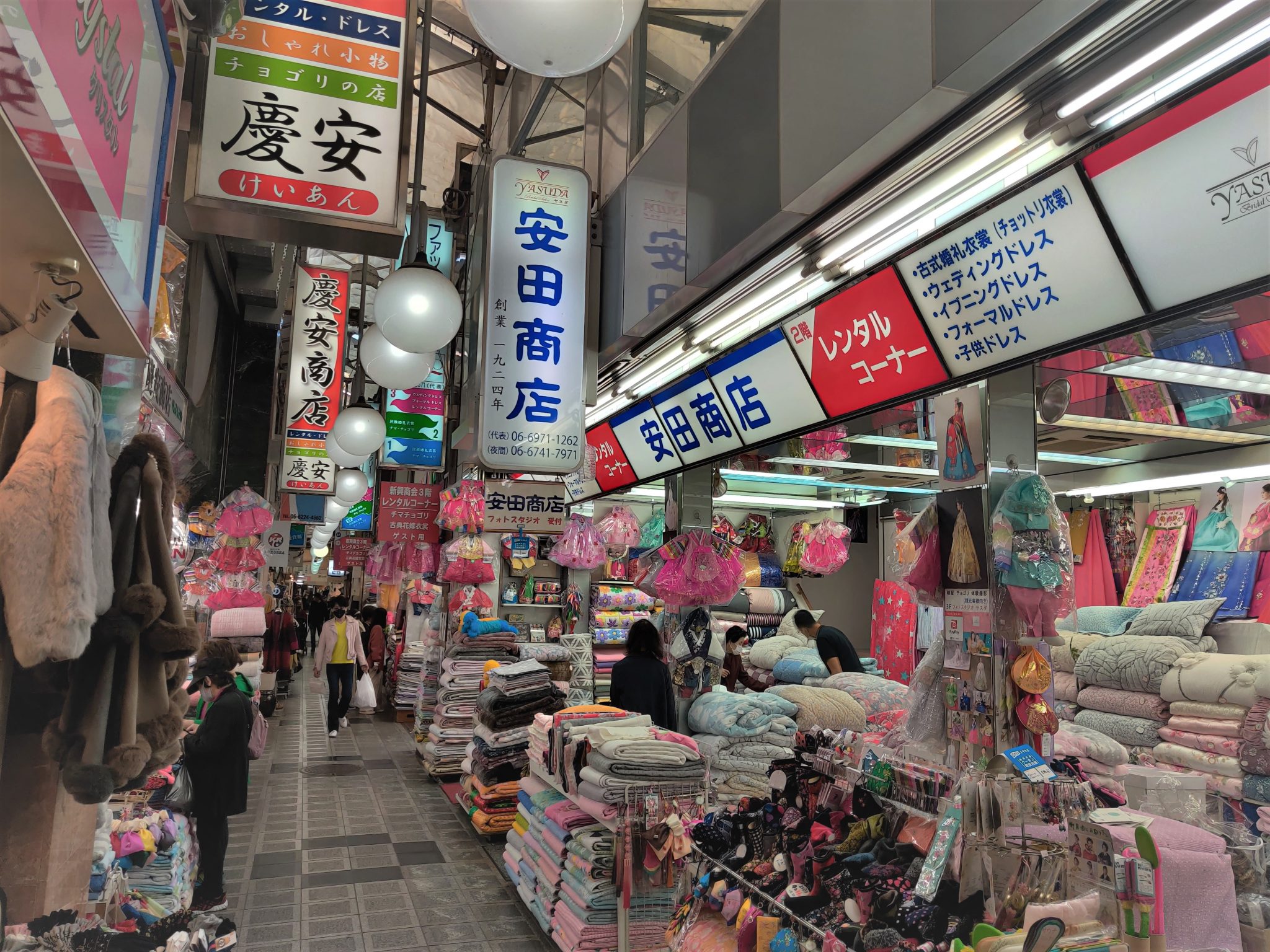 This part of Osaka has historically had the highest density of Koreans and those of Korean decent in the country, and the warren of shops and restaurants here at Tsuruhashi Station loudly attests to this. Technically, there is another Korea Town about 15 minutes' walk away. But trust us – you're going to enjoy this one more. Now, this is probably not your mother's shopping district. Oh wait – much of it very well may be like your mother's shopping district. But the narrow alleys and colorful characters make for a sheer delight of quirk. If you do it right, you will get lost, so build that into your plan. If you're feeling super immersive, have a seat at one of the low priced tiny restaurants. Smiling and pointing at foods will be enough to supplant the staff's predictably limited English. You will, of course, have a drink while you're here if only because it's what everyone else is doing.
And now for some spirituality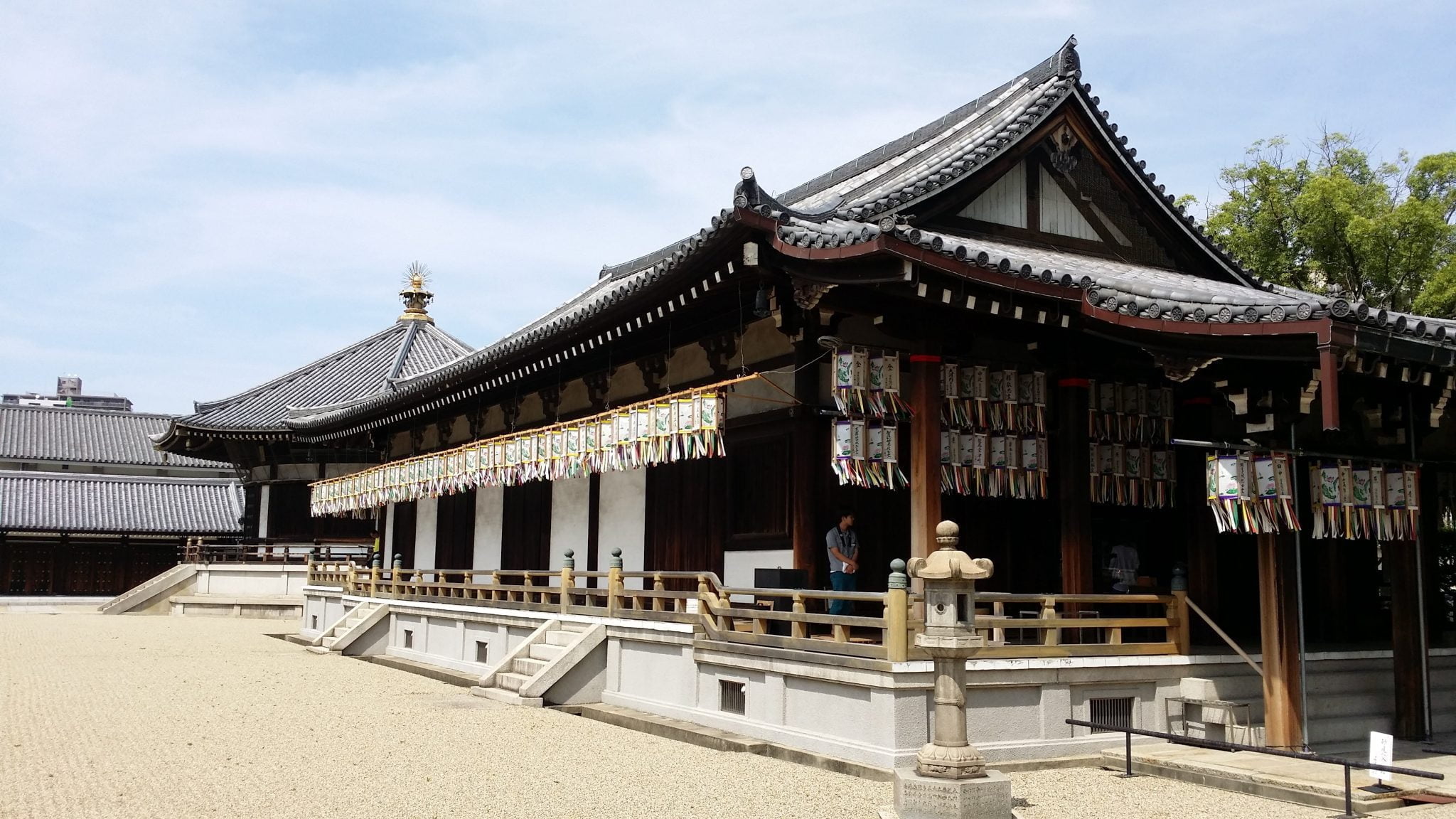 Osaka isn't all shopping and eating. Maybe 90% or so. But you, dear visitor, having already seen the castle, are ready to bolster your cultural checklist further. Shitennoji is a fantastic place to do this. Not only is it ancient (is the year 593 old enough for you?), but it's centrally located too. Why is Osaka the home to a temple older than anything in Kyoto? It all comes down to trade. Way back then, Kyoto was still not much of anything. Osaka, however, enjoyed extensive trade with Korea. Enter: Buddhism. The Koreans got in from the Chinese, who got it from Indians. We talk about this just enough so your eyes don't glaze over on our Osaka private vehicle tour.
You should know that there's much more to Shitennoji than what's pictured above. They have a lovely hidden garden that usually has between zero and three people in it. It's amazing, and only costs a few hundred. There's also a replica of the original pagoda. Sadly, earthquakes, fires, and war have led to the pagoda needing to be rebuilt eight times. A bit sadder yet, they did the last rebuild using concrete. Even if it is no longer an amazingly tall nail-less wooden structure, the exterior still looks the part. All in all, the Shitennoji complex is very worthwhile, and it's largely free.
Did we get this far without talking about FOOD?!
We're talking about interesting things to see and do in Osaka, but for most Osakans the most interesting things to "see" are food related, and the most interesting things to "do" would involve eating it. "Kuidaore," the popular Osaka refrain, means to eat until you drop. Besides being known as slightly obnoxious people to other Japanese, Osaka people are known to be very serious about good food. It doesn't have to be fancy, but it certainly can be. Pictured above is a restaurant we often frequent on our Deep Osaka All-Inclusive Nighttime Foodie Adventure. In addition to oden and doteyaki, they're deep frying some kushikatsu. If there's one thing you need to try in Osaka, it's good kushikatsu. Many enjoy it more than the city's famous takoyaki. Just come on our tour and we'll sort it all out for you.
Osaka is the best city in the world
What, you don't like hyperbole? A good sense of humor is going to help you get along with the somewhat wacky Osaka people. And not just humor, Osaka's got great food, historical sights, and fantastic shopping too! You're going to love it. Unless you're from Tokyo, in which case you'll probably hate it. But if there's one thing Osaka people don't care about, it's Tokyo.