With so many must-see places in Japan, it's hard to know where to start. And it's even harder to know where to end! So we're here to help you with a good few of the essentials. Think of this as something to whet your appetite, to get your excited. Once you've chosen a few top spots, you can build out your itinerary from there. With a history and culture as rich as Japan, there's so much to enjoy no matter what your interests may be. Without further ado, let's get to the list of must-see places in Japan!
Tokyo's Shinjuku and Shibuya districts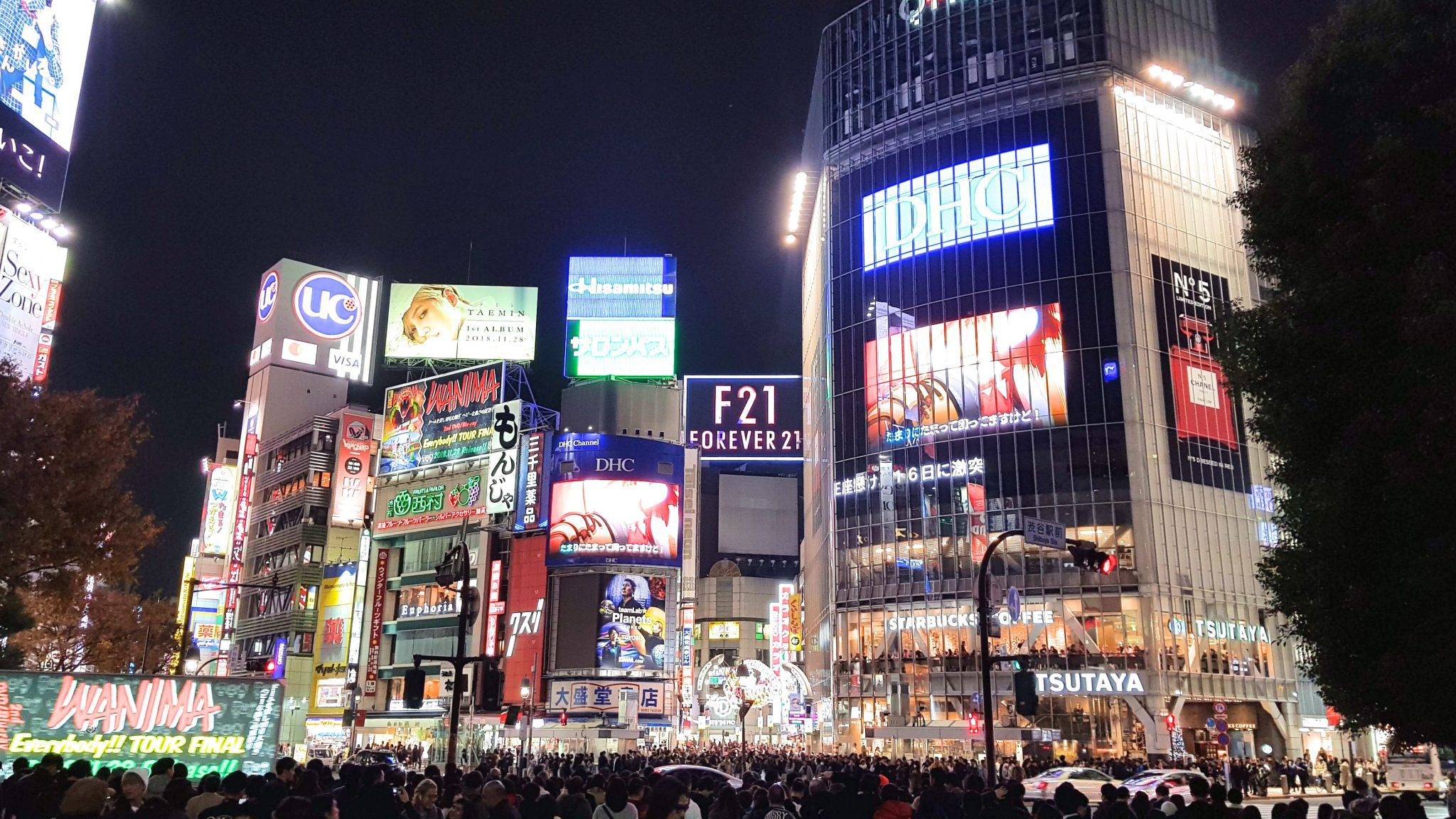 OF COURSE you are going to see Shibuya. How could anyone come to Japan and not? And with Shinjuku around six minutes away on the JR Yamanote line, the double-header is a cinch. You can come during the day, or you can come during the evening. You'll probably ending up coming during both. These two areas are the epitome of modern Japan, but their audiences are not the same.
Must-see places in Shibuya
Shibuya tends to skew younger than Shinjuku, with the largest representation probably in their 20s. (For younger than that, head to Harajuku, conveniently located between Shinjuku and Shibuya.) There's plenty of fashion here, but not the same levels of couture you would find in Shinjuku. Arriving in Shibuya by train, the immediate spectacle is what you see pictured above. If you look closely, you can see masses of people crossing the street in the world famous "Shibuya Scramble". It is a rightfully famous scene, and one you will never forget once swept up in it. Once across, just follow the crowds and give the area a good wander. For a more hipster-y tint, be sure to explore the smaller streets up Dogenzaka way. Needless to say, there's also approximately one bajillion restaurants and bars here.
Must-see places in Shinjuku
Shinjuku, which you may know as having the busiest train station in the world, is also well worth your attention. It's a more varied demographic, both in terms of age and income. For Shinjuku shopping, be sure and check out the grand dame of early 20th century department store buildings, Isetan. Visiting the area during the day also allows you access to another must-see place in Japan, Shinjuku Gyoen (gardens). This lovely former estate now boasts picturesque strollable gardens and an arboretum too. For night exploration, we recommend mingling with the locals in the Shinjuku 3-chome area, or choosing from one of the large variety of high end restaurants in the area. For those of the LGBTQ+ persuasion, Shinjuku 2-chome is the universally recognized center of said culture – and we've got a tour that covers it.
The Iconic Mt. Fuji
First, a disclaimer. Try as you might, Mt Fuji cannot be seen roughly 41% of the days of the year. With this in mind, even though Mt. Fuji is indisputably one of the must-see places in Japan, you are best off planning a trip to somewhere near Mt Fuji where there are other things to see and do as opposed to the base of the mountain itself. If you go all the way to the mountain and there's nothing to see, it's going to be a real bummer, no? The answer is spending a night in Hakone! Odakyu Railways has a neat package that includes roundtrip train service from Tokyo and all travel in the Hakone area, including a boat ride across Ashinoko (lake) as pictured above, plus rides on a ropeway, an inclinator, a switchback railway and more. If you get that fantastic view of Mt. Fuji, great! If not, still great! That's because this area has hot springs and other ways to pleasantly spend your time.
Depending on your itinerary, it may make sense to not return to Tokyo at the end of day 2, and instead continue on to Kyoto from Odawara Station. Alternatively, for those in a real time crunch, Hakone can be done as a daytrip from Tokyo, but it's going to be a busy one!
Speaking of Kyoto: Fushimi Inari Taisha
As far as cities go, if we really had to choose which is the top among the must-see places in Japan, we'd choose Kyoto over Tokyo. Don't be a hater! We have our reasons. You see, while Tokyo has modernity, that is a quality which is by definition ephemeral. Kyoto, on the other hand, has a level of enduring culture and tradition that Tokyo simply cannot. Kyoto is arguably the vanguard of all things traditional in Japan.
Fushimi Inari Taisha (shrine) is one of the top visited sites in Kyoto, so we're using this as a ringer just to whet your appetite. Not to detract from its intrinsic value, of course! This (free!) shrine is great to visit any time of day – or even night. During the hot summer months, you indeed may wish to choose evening. It's cooler, the paths are lit, and the crowds much thinner. And all that writing on the gates' pillars? Well that's info about who sponsored the gate and when it was built! The gates have a lifespan of thirty years, so there's constant renewal going on.
We've got all kinds of options for tours with us in Kyoto, and our guides ain't no joke. We take Kyoto very seriously, but also make sure you have a fun day or evening when exploring with us.
Buddhist Superlatives in Nara
We're going to be perfectly honest with you. If your focus is on covering must-see places in Japan, you can cover Nara as a daytrip from Kyoto or Osaka (the latter city being a faster and easier option). This is because Nara Park, a short walk from Kintetsu Nara Station, has got the highlights lined up in a row for you. And the granddaddy of those highlights is, without a doubt, Todaiji.
The building pictured above, which was the largest wooden structure until 1998, contains what is still today the world's largest bronze statue of the Buddha Vairocana. We did promise you superlatives! Seeing this sight in person is for many people a re-defining experience. Once you've walked around the bronze Buddha and exited the building, do be sure to walk around Nara Park. Here you can feed the wild deer (or not feed them, if you fear their wrath) and eventually make your way over and up to Kasuga Taisha (shrine), another very special place. But nowhere in Nara is as special as Todaiji, so do check it out!
Osaka, the Wildly Pulsating Heart of Modern Japan
If you're looking for the glossy bustle, you visit Tokyo. If you're looking for history, impressive temples and gardens, you go to Kyoto and Nara. But when you're looking for the soul of modern Japan, there really is no better place to go than Osaka. This merchant "town" of a few million very boisterous denizens boasts a history many centuries longer than Tokyo. It's also where Japanese are known to live life to their fullest. Osaka people are loud, funny, love eating and drinking, making money, and doing deals. While in other parts of Japan, people may great each other by asking "genki desuka?" (are you well?), Osaka people traditionally ask if you are making money ("mokattemasuka?").
The culture here is very accessible. People are friendly, and the urban vibe not nearly as stuffy as some other cities which shall remain unnamed. Our night tour is a fantastic romp through it all, or you may choose to get lost in translation on your own. Oh, and there's a famous castle, the oldest Buddhist temple in Japan (Shitennoji), Universal Studios, and the ever-so-slightly overrated Dotonbori area. So while Osaka's fabulousness may not fit neatly into an Instagram feed, the vibe alone absolutely makes it one of the must-see places in Japan.
We've Only Just Begun Sharing Our Must-See Places in Japan
We've probably slighted a number of very worthy places to visit in Japan, both sights and whole cities or even regions. We're sorry about that. But this is a post just to get you excited and set a framework for where you should visit. If you've got more than a week to spend, you've got loads and loads more options. Get in touch with us for some personalized, no obligation attention.