Just about everyone's heard of Kobe beef, but is Kobe, Japan worth visiting even if you aren't all that into the beef? Kobe is in the same part of Japan as Kyoto, Osaka, and Nara, which makes it easy to visit – but also in competition with many of the region's other great sights. For most people, a one day to trip to Kobe is just right, but allow us to highlight some key attractions so you can decide for yourself. Spoiler alert: We think Kobe is a pretty swell city!
A History of Western Influence
Alongside Yokohama, Kobe was once a booming outpost for foreign trade. Some of the Westerners conducting business from the early 1900s became quite wealthy in the process, and naturally wanted homes reflecting their stature. No tatami floors for them. No, these Westerners recreated in Kobe the style of home from their native lands. Today, a number of these homes still survive in the "ijinkan" district up-slope from central Kobe. Great architecture, period furnishings, and fantastic views all await you.
If you come to Kobe by Shinkansen (bullet train), this area is a convenient place to start your day. For your reference, Shin-Kobe Station (where the Shinkansen stops) is about twelve minutes from Shin-Osaka, and another fifteen minutes on top of that if you are coming from Kyoto. Incidentally, regular train service between Kobe Sannomiya Staton and Kyoto takes about 55 minutes and runs around 1,100 yen (roughly US$10) each way.
Take a Break in Kobe's Natural Splendor
Kobe is sometimes said look like a miniature Hong Kong. Though that may be a bit of a stretch, the comparison is made because Kobe too has a relatively narrow strip of land between the mountains and the harbor. Like Hong Kong, much of especially the lower elevations are quite densely populated. Still, gems such as the Sorakuen Garden have their place, and a gorgeous one at that. This former estate is yours in splendor.
For nature on an even grander scale, consider heading into the mountains for Kobe's Botanical Garden. More like a curated forest reserve than a garden per se, it's a great place to escape… everything. You can even hike right into it from Shin-Kobe Station. It's a genuine hike, so be prepared and allow an hour and half to be on the safe side. By the way, our Kobe private vehicle tour goes to this garden if you're looking for an easy way to get there! Our private tours are always customizable, so don't hesitate to get in touch with us for a no-obligation consulation.
Kobe's Legendary for Sake
If you love sake (Japanese rice wine), you may find Kobe, Japan worth visiting just for this reason alone! From central Kobe (Sannomiya), take a six minute train ride followed by a ten minute walk to Hakutsuru's sake production museum. For hundreds of years, Kobe's sake breweries have made use of the crystalline waters that flow from the mountains above for their sake production. The breweries still today are near the coast, which is also for a reason rooted in tradition: in the old days, most of the sake was shipped around the country by ship.
The area's sake breweries have grown to be rather large scale in modern times. Hakutsuru is our top recommendation because they have converted their old, relatively small production house to be an informative and entertaining museum. Plus, the recreated scenes and accompanying explanations are available in English, which makes things much easier! Rest assured that your sake studies will go rewarded with free samples at the end. With free admission, free sake, and abundant English explanations, how can you go wrong?
Arima Onsen is the Region's Most Famous Hot Springs
Deep in the mountains but easily reachable by train from central Kobe (Sannomiya) is the Kansai region's most famous hot springs, Arima Onsen. There are a number of hotels offering day use for around 2,000 yen, or you can even make a night of it enjoy some Kobe beef while you're at it! However, most people "taking the waters" will use one of the two low cost public bath houses. They are gender separated, but as with all hot spring baths in Japan, you are expected to soak in the nude. There are small vanity towels you can drape with as you walk around if you're on the shy side. Do be careful not to let those towels enter the bath with you. That would be a big no-no!
The waters at Arima Onsen are mineral rich and said to be youth restoring. For many stressed out Japanese, this alone makes visiting Kobe, Japan worth it! Most people notice their skin feeling smoother and more supple after a good soak. Here's a pro-tip: If you sit in the baths with your heart above the water line, you won't feel overheated nearly as quickly. It's also good habit to soak for a few minutes, get out of the baths, then repeat. The most important rule of all is to never, ever go in the baths with soap or shampoo on your body. Wash your body and rinse off completely before beginning your soak regimen.
Aside from the baths, Arima Onsen is also a nice small town to walk around for a bit. There's shopping, some good food and a few nice cafes. The area feels very atmospheric and cozy. As mentioned above, it's easy to get here by train from central Kobe. But if you are heading to or coming from Osaka, look into catching an express highway bus. It's easier, a bit faster, and around the same price as using the trains.
Chinatown, anyone?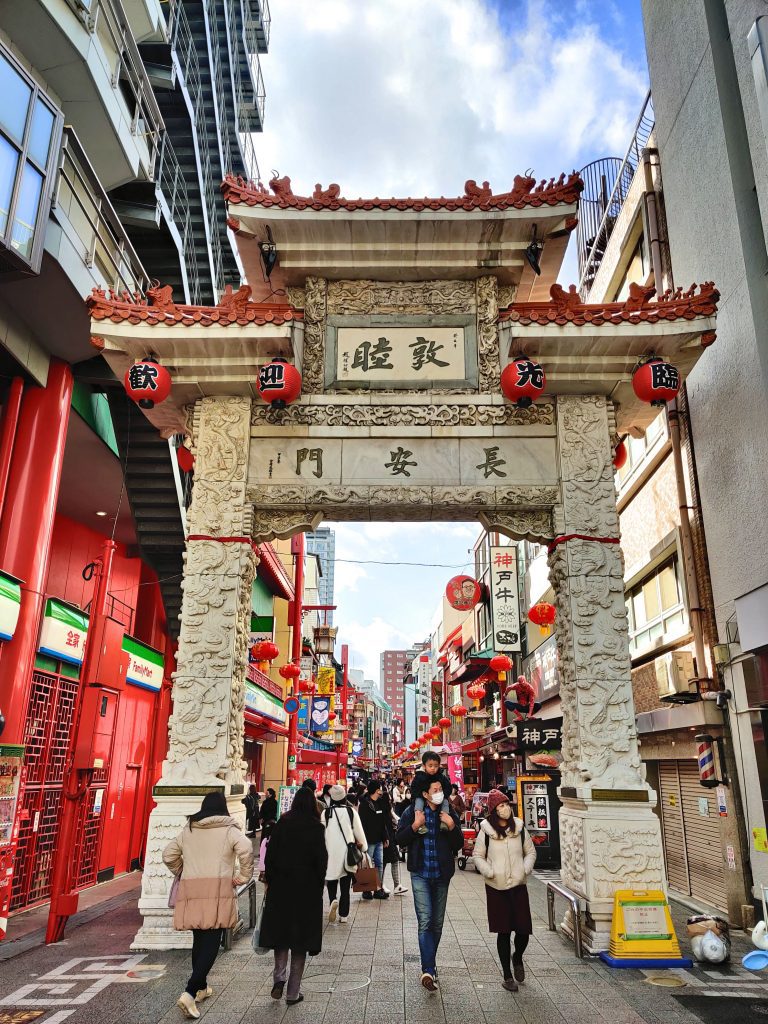 On a vacation to Japan, you may not be that interested in visiting a Chinatown. However, for Japanese, this Chinatown is considered second in the country only to Yokohama's. Since Kobe's Chinatown is centrally located, why not at least give it a walkthrough? Most of the restaurants along the main drag have small items for sale that are ready to eat. Alternatively, all-you-can-eat affairs are quite popular, if you're keen!
Kobe's Famous Winter Wonderland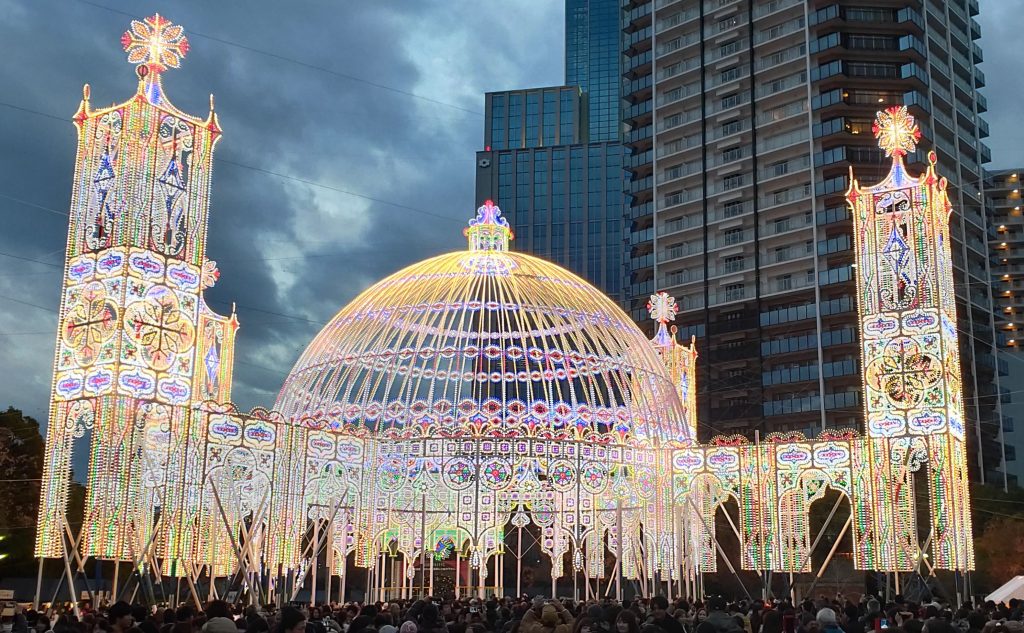 If you happen to be in Kobe during November – January, the evening illuminations are a must-see. It's of considerably larger scale than pictured above, extending in various forms over a number of city blocks. It's a very grand affair, and classy too – as it should be in a city like Kobe! Be sure to check online to make sure the illumination is going on when you are in town. The exact start and end dates vary by year.
Think visiting Kobe, Japan is worth it?
It's fair to say that Kobe's got a little something for everyone, and a lot of everything for some! Be it sake, hot springs, gardens, or the international flair of the urban landscape, you are sure to enjoy a day in this fine city. Kyoto and Nara may have a lock on classic Japan, and Osaka is by far the biggest, most bustling city in the region. But save a thought for Kobe. This mid-size city holds it's own and can't wait to share its gems with you.
p.s. The beef is pretty awesome.