Big cities can sometime be intimidating, and even a little scary, right? Well, if you're looking for a country with safe big cities day or night, Japan is a great choice! According to many studies, Osaka ranks 3rd safest city in the world, while Tokyo comes in at #1! (FYI, Singapore is in second place.) Exploring a city in a foreign country is always fun, but when it's a city as exceptionally safe as Osaka, it's even better! We're here today to tell exactly where to get enjoy a walk in Osaka alone at night
The only worry you should have at night is ending up in a bar or restaurant that turns out to be a lot more expensive than you expected. Avoid the expense-account restaurants in the business districts for sure. The Nakanoshima/Yodoyabashi area (pictured above) is one of those area. Instead, get your evening stroll on in one of the following reliably fun parts of the city.
All Roads Lead to Dotonbori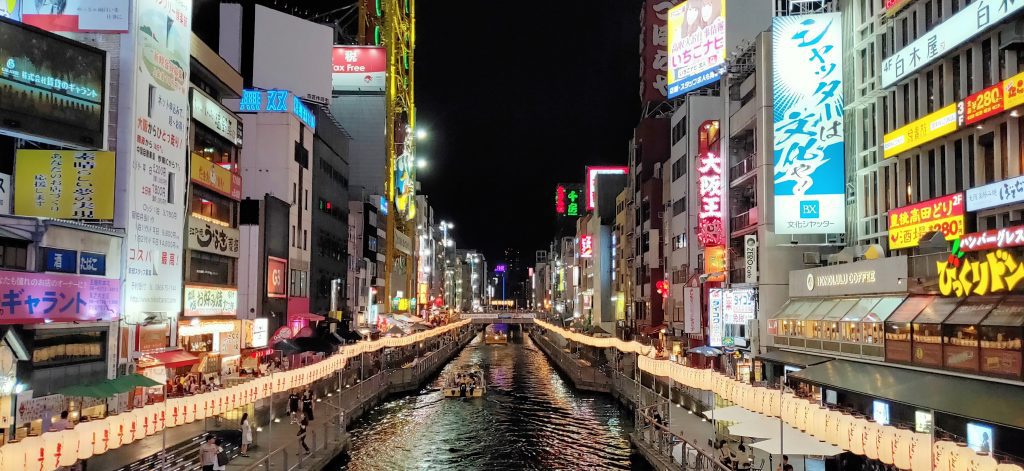 Located squarely in central Osaka, Dotonbori is the canal that runs through the city's Namba and Shinsaibashi adjacent districts. The streets running closely alongside the canal are considered to be part of the Dotonbori neighborhood. If coming by subway, you'll want to use Namba Station.
Bright lights and boisterous crowds are hallmarks of the Dotonbori area. Visitors from all over the world get down to some serious merrymaking around here, and there's a healthy local contingent as well. Many visitors from the West are particularly surprised at how virtually every floor of the eight and ten story buildings has a different restaurant or other retail establishment. Now that's an entertaining density!
It's pretty easy to figure out where to walk around when in Dotonbori. Just follow the lights and the crowds if you're not sure. But hey, being in the 3rd safest city in the world means you can meander off down dark narrow streets too! Have at it. You never know what you may discover! Be sure to check stone paved pedestrian-only streets around Hozenji Temple.
Shin-sekai is a Compact Osaka Flavor Concentrate
Back in the early 20th century, this area was the site of a popular amusement park. Think: Coney Island meets Japan. Even the layout of the district is decidedly un-Japanese. On the north side of Tsutenkaku Tower (pictured above), streets radiate out in Parisian form, while on the south side is more of a traditional grid pattern.
It's the south side of the tower where most of the revelry goes down, and you're walking Osaka alone at night, this would be the spot most fun. Go into any of the restaurants and you are sure not to be alone for too long! The locals are especially friendly around here, and you'll soon be braving language barriers and sharing cultural moments. The "standing bars" (known as tachinomi is Japanese) serve lots of food in addition to alcohol, and they are great places to mingle. Most visitors to tachinomi go alone or with just one other friend or coworker.
Some years back, Osaka may not have been the third safest city in the world. There, we admitted it. In those days, Shin-sekai was run down and avoided by most locals. WWII of course did tremendous damage here, but when Japan started to boom after war, it was the Namba area (see above) that found greater prosperity. Though Shin-sekai's rebirth started around twenty years ago, it's really only been in the last five or ten years that the boom really got its shine on. That means there are still great pockets of down-n-dirty Osaka if you know where to look!
Getting More Local in Tenma Means You Don't Stay Alone in Osaka Very Long
Don't get us wrong. Dotonbori and Shin-sekai are both sights to behold, and definitely worth your time. However, if you are looking for a neighborhood that has far fewer out of town visitors (both Japanese and otherwise), Tenma is a great choice. It's so great that we've been running a very popular night tour there for nearly five years! We welcome solo travelers, and our maximum tour size is a very comfortable six guests.
Running perpendicular to the JR tracks, and just west of JR Tenma Station, is Japan's longest covered shopping arcade. That's all very good and interesting, but at night the scene shifts east. You'll want to head to the area directly north of JR Tenma Station. This warren of small streets houses many of Osaka's finest small restaurants. On sight, you'll sure want to give it a wander and see what strikes your fancy. Many people visit two or three different places, especially if they are tachinomi standing bars. This allows for changes of scene and also the chance to chat with different folks.
You're probably going to get lost wandering around Tenma, but that's part of the fun! Also, English won't get you as far around here as the more touristy Dotonbori and Shin-sekai parts of the city, but that also should be considered part of the fun! Even here it is safe to walk around Osaka alone at night. And delicious too, once you start stopping by the restaurants. The abundant quirkiness comes at no charge.
Three Different Neighborhoods to Walk Osaka Alone at Night
So there you have it! If you were wondering if it is safe to walk around alone at night in Osaka, your answer should now be abundantly clear. Not only is it safe, it's loads of fun! Not just for solo travelers either. However, you will find that if you are part of large group (or a large tour), you won't be able to get into many of the more atmospheric places.
One of the greatest things about the great city of Osaka is the people. No hard feelings towards those Tokyo people, but especially compared to that (ahem) #1 safest city in the world, Osaka people are much warmer and more friendly to strangers. Being third safest is an acceptable compromise in our opinion! Come on by and give us a stroll.