Tokyo Tower is one of the most easily recognized symbols of Japan's largest city, but is it worth going to? Since completion in 1958, over 180,000,000 people have decided it was, but what will you decide? In recent years, the admissions fees have gone up significantly. Also, there's the younger kid on the block (or rather a bit outside of it) with even loftier views: Tokyo Skytree. Read more to find out if it is worth going to Tokyo tower for you!
Tokyo Tower by the numbers
Construction of Tokyo Tower only took around a year and half. Quite a feat, considering the scale! At 332.9 meters (1,092 feet), it should be considered a heady achievement for a country decimated by World War II. There are two viewing platforms, one at 150 meters off the ground, and the other at roughly 250 meters elevation. An elevator change at the 150m observation deck is required to continue on up to the 250m deck. Though the tower is about 333m tall, it is not possible to climb any higher than the upper observation deck.
Not just built for our viewing pleasure, Tokyo Tower has long served as a broadcasting tower for TV and radio signals. With the advance of time and height of surrounding structures, however, this role has become somewhat hampered. Broadcasting still goes on, but digital broadcasts are now beamed out from the much taller Tokyo Skytree (more of Skytree below).
Speaking of numbers, our favorite just might be 1960, or rather "1960s", the era to which the entire Tokyo Tower property feels like it is paying homage. If you're an architecture buff, you'll be giggling with joy especially as you walk around the lower shopping levels with their so very avant-garde design elements. There was once a super kitschy wax museum dating back to 1970, but alas modernity has cast its harsh edict, and the museum is no more. Still, the whole stylistic affair of the compound is a sight to behold. Clearly, these were very heady days.
How much cash is this going to set me back?
The prestige of climbing Tokyo Tower is not going to come cheap, notably so if you want to be a VIP and go the upper deck. For adults, admission to the lower deck costs a pretty acceptable 1,200 yen. Adding the "Top Deck Tour" (which includes admission to the upper deck) will add a hefty 1,800 yen, bringing your total to 3,000 yen. There is a 200 yen discount off the 3,000 yen package available if you pre-book online. Charges are also lower for minors, with successively lower prices for the ages of 16-18, 7-15, and 6 or under. Thing is, if a view of Tokyo is the main point for you, there are a number of places you can a similar or even better view than the 150m deck, and do so for free. Tokyo Tocho and Shiodome are a couple that come to mind.
While you're in the neighborhood…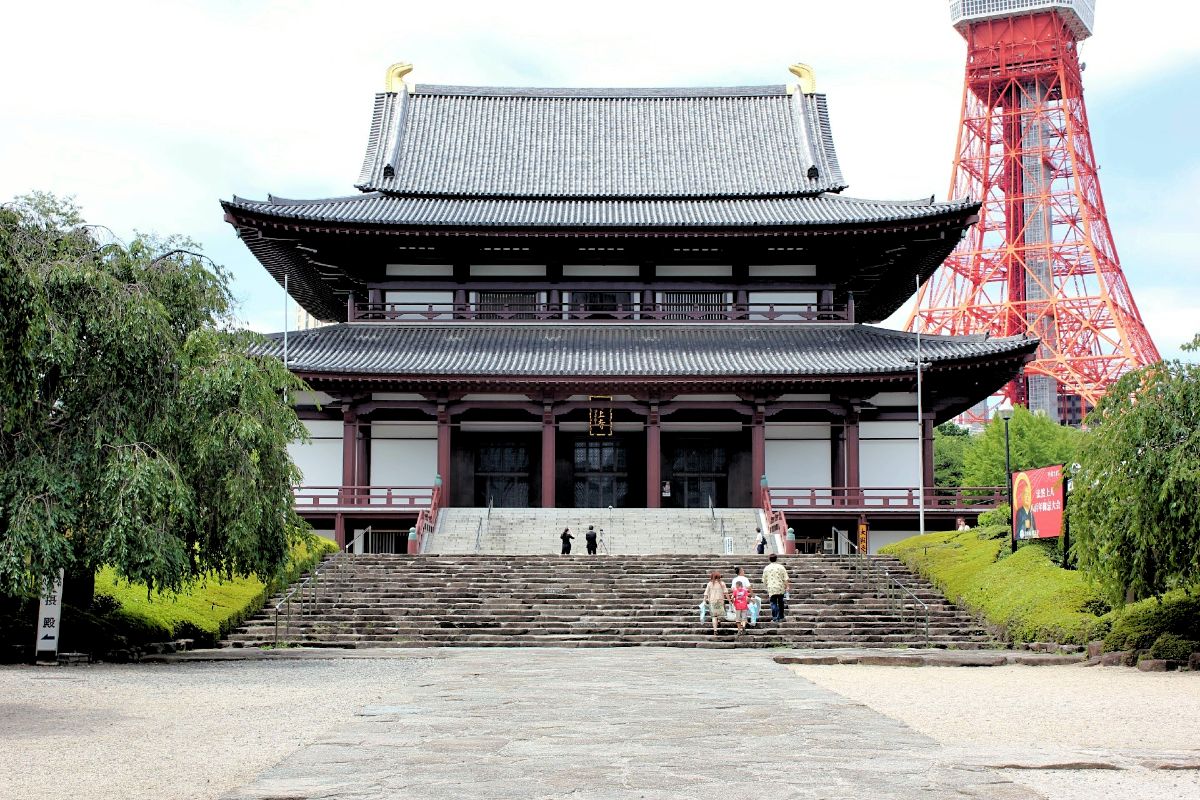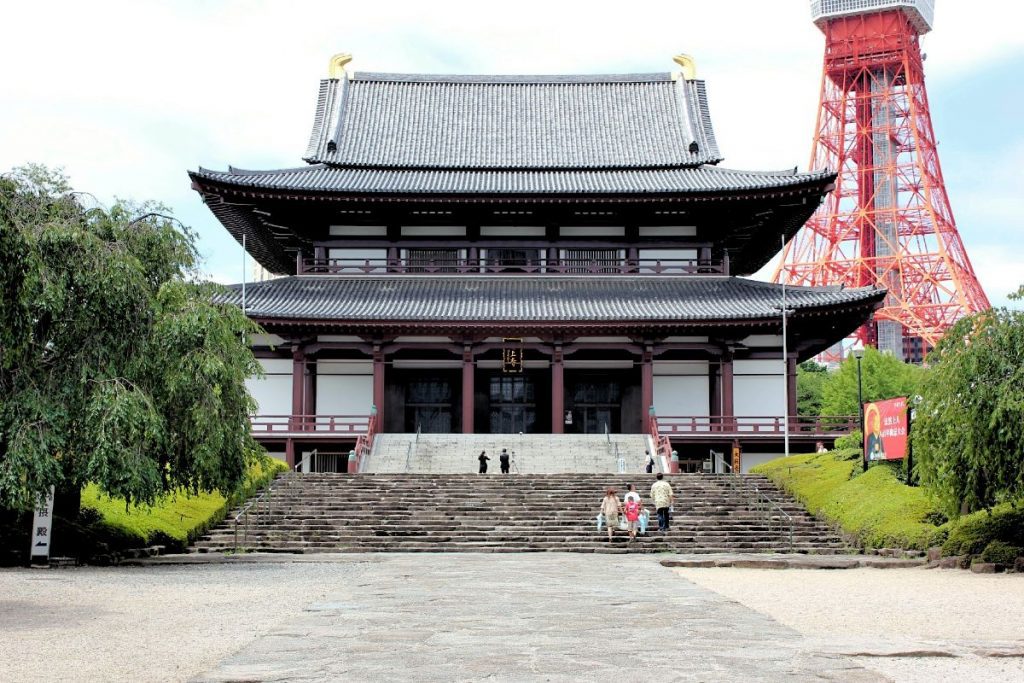 Adjacent to Tokyo Tower you will find Zojoji Temple, making for an easy historical/religious tack-on to your outing. The temple has been in this location since the end of the 1500s, but what with all the fires, earthquakes, wars, etc., it should come as no surprise that very little of the original construction survives today. That said, one thing that survives is a very impressive 22m tall wooden gate/building dating back to 1622. It is in fact the oldest surviving wooden structure in the city!
The temple grounds make for a nice stroll, and the surrounding Shiba Park also makes for a pleasant urban respite. Zojoji Temple also hosts artwork displays, and, famously, the mausoleums of six of the Tokukawa Shogunates. It's a real boon for Japanese history buffs.
Getting there
A number of train and subway lines get fairly close to the compound, but all will require a bit of an uphill walk. Shibakoen or Akabanebashi Stations would be our preferred approach, as they leave you well situated to explore Shiba Park on your way up to the tower. For those not interested in walking, there are buses, but the better options would probably be to just catch a taxi from a nearby train or subway station. If you're using a JR Pass, the closest JR station is Hamamatsucho. But let's be honest. You're probably going to regret your decision to save 160 yen or so as you walk the 15-20 minutes to Tokyo Tower.
The Competition
Tokyo Tower has history, heartwarming stories, and due to its central location, an debatably better view of Tokyo. However, at 634 meters, Tokyo Skytree is nearly double the height of Tokyo Tower. Observation decks are located at 350 meters and 450 meters. As of this writing, combined admission to both decks comes in at 3,100 yen. Finding satisfaction with the view from the 350m deck will save you 1,000 yen. Weekends and holidays are subject to an additional few hundred yen surcharge.
The views are great, but the tower is a bit outside of the city center. That said, subway access is more convenient, and the elevators are some of the fastest in the world. The shopping and restaurant scene at Tokyo Skytree is also light years better. Tough call, huh?! If you're looking to optimize height per yen costing, Tokyo Skytree is the winner. If you have a more nuanced method of judgment, you might find that the lore of Tokyo Tower makes up for the reduced physical stature.
The verdict: It is worth it to go to Tokyo Tower. Probably.
It's tough to authoritatively tell you if Tokyo Tower is worth it. Tokyo Tower's location, retro design, and the story it has to tell, all make for a compelling sell. But we just can't help but deduct a few points for size. Even with a location not as prime, at nearly double the height of Tokyo Tower, you're going to see a lot more from Tokyo Skytree. Though to be fair, the lower deck of Tokyo Skytree is "only" 100 meters taller than Tokyo Tower's top deck. The upper deck is 200 meters taller than Tokyo Tower's top deck.
Then there's the pricing, coolness factor, shopping/dining scene, and public transport accessibility. Sure, you could argue some of the finer points relating to these metrics, but we feel Tokyo Skytree comes out ahead. Whatever you choose, do check us out for entertaining tour options in Tokyo (and beyond) once you're on the ground!