Tokyo Night Food Tour
Tokyo Food Tours in English
Ready to leave Shinjuku and Shibuya behind for an evening of seriously local sights, people, and foods? Come join us on this all-inclusive Tokyo food tour! Let us show you fun and interesting old parts of Tokyo where — unlike those mainstream entertainment zones — it's pretty stunning to see a visitor from abroad. 
Despite being just a few minutes from Shinagawa Station, you'll feel like you're amidst only locals…plus our small group of no more than six.
Traveling elsewhere on your visit to Japan? Check out our Osaka Foodie Tour and our Kyoto Food Tour to experience each city's unique food culture!
Does this look like fun? Book tickets today!
A Tokyo Evening Tour Overview 
Your evening tour of Tokyo starts at JR Oimachi Station, which — despite being just one stop from Shinagawa with its shinkansen (bullet train) and big-building modernity — is truly a world apart. Here, the scale is much more human with many streets wide enough to only accommodate pedestrians. 
We can't wait to walk you around and show you all the various nightlife spots, with bars, funkier bars, hostess clubs (not to worry, this tour is entirely suitable for teenagers and up), and more scattered about. 
Since we'll be walking around in the early evening, the alleyways and restaurants will be busy with "salarymen" just off work and others who are enjoying a little happy hour and maybe some food as well.
Adding the Food to Our Tokyo Food Tour
We will visit three different restaurants over the course of the evening, but the specific ones we choose each tour can vary. Regardless, they will most likely be "tachinomi". 
Tachinomi are restaurants where you enjoy small plates of food and drinks while standing at a bar or small tables. To be clear, these are not "bars" for drinking and possibly a snack, but rather full-fledged restaurants done in a standing format. Since most of the patrons have been sitting at desks all day, it makes for a nice change — and a social one, too.
We frequently eat yakitori (grilled chicken on sticks), slow cooked meats, seafood, and a whole host of other treats as well. You can count on trying at least 10 different dishes over the course of the night across the three restaurants. With a drink (alcoholic or non) included at each spot, the evening has the potential to flow even smoother!
Starting with a beer is the classic move, but as your evening continues, we'd love to introduce you to shochu or sake as well. We very often go to a sake-specialty tachinomi for our third and last stop of the evening.
Touring Not Just One Neighborhood, But Two!
Augmenting our Oimachi walkabout experience is the stroll awaiting us in Kamata, which is just 6 minutes further down the train line (your fare is included). 
This area is not as saturated with bars and such, but rather more about food and pachinko (the Japanese game that's not gambling, but is). 
There's also a large supermarket we'd like to walk you through for a primer on Japanese food preparation. Despite it not generally being included on a foodie tour in Tokyo, you may find visiting this fairly large supermarket to be surprisingly interesting and informative. 
It's certainly not something you could do in Shinjuku!
With the edutainment behind us, it will be back to the food. Depending on the night, we'll either go to two restaurants in Oimachi and one in Kamata, or two in Kamata and one in Oimachi. 
Some of this depends on your eating predilections as well. Please do let us know in advance, because we are happy to accommodate vegetarians or just about any other dietary restriction.
Spend an Evening in Tokyo Like a Local
Don't get us wrong: Shinjuku and Shibuya are must-sees in Tokyo. That's why so many other food tours go there. But if you want to get a more honest, local vibe, you're going to need to get a bit of distance from the high-rent, chain restaurant-dominated landscape. 
We've carefully chosen Oimachi and Kamata because they are authentic areas of Tokyo, they're friendly to foreigners, and they have some noteworthy food and drink, too. 
Come join us to feel like a local!
Does this look like fun? Book tickets today!
JR Oimachi Station has been here since 1901, but the area doesn't quite look that old. Still, you'll get great pics in the restaurant- and bar-lined backstreets that are just wide enough for two people to walk abreast. It's a very Japanese vibe. We'll give you a nightlife primer on our walkabout, and also stop at one or two restaurants. We'll spend about 75 minutes in Oimachi.
The six-minute train ride to Kamata gives us some time to chat about Tokyo in general. And then, we hit the ground running (well, not really running), checking out the neighborhood pachinko hall just outside the station. After that, we spend some time learning interesting things about Japanese food shopping and cooking in general as we walk and talk through a local supermarket. We usually spend about 45 minutes between restaurants to build your appetite back up.
We'll go to one or two more restaurants here in Kamata (depending on if we went to one or two in Oimachi). There are a few we like to choose from, but we'd be extra excited to show you our favorite sake (Japanese rice wine). We'll choose some sake based on your taste preferences, and we can almost guarantee you're going to like sake more after this stop!
Quick Tips for Our Tokyo Foodie Tour
There are a few things we'd like you to take note of before joining us.
The legal drinking age in Japan is 20

While not overtly risque, the tour includes commentary and contents that may not be suitable for pre-teens

Please come wearing comfortable shoes, and dress for some time both indoors and outdoors

Unfortunately, we cannot wait for late-comers, so do plan on arriving a bit early
Inclusions:
A dinner's worth of food across three different restaurants

Up to three alcoholic or non-alcoholic drinks (one at each stop).

Train fare between our two neighborhoods
Exclusions:
Drinks beyond the three provided (you can purchase more directly from the restaurant if you wish)
Options:
Would you like to have a guide come early and escort you to the tour start point? This is available for central Tokyo addresses (along or within the JR Yamanote Line) or on those on Odaiba for 5,000 yen per group, plus your train fare. For pickup points beyond these areas, please inquire.
Historic and Cultural Landmarks
Though we'll be exploring old neighborhoods, to be honest, there isn't anything that could be considered a landmark in that sense. However, culturally, there is a laundry list of things to see and immerse yourself in! You're sure to remember these places long after the tour has ended.
Easy Access
We start our tour at JR Oimachi Station's East exit. There are many exits, and one is even called "Central East exit", so it is very important to use the exit that is labeled as "East exit".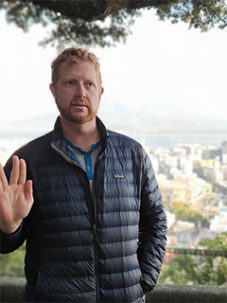 Kevin
We think it's important that everyone who works for Pinpoint Traveler is an active guide too, even the owner. Kevin's been in Japan thirteen years, but spent the first ten in the corporate world. Now he shares his love for Japan outside the confines of the office.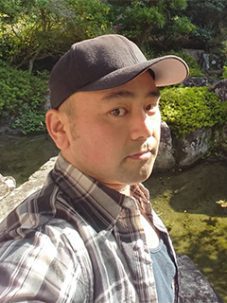 Shoji
Born in Japan, but moved to Canada when he was still quite young, Shoji is back and ready to share is passion for Japan with you. His main dominion is Osaka and on down to Koya-san and Wakayama, but he's such a popular guy that we often send him even further afield by request.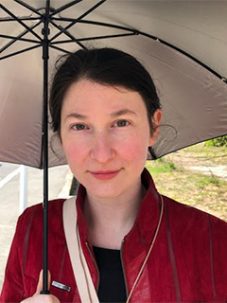 Mardi
Mardi's our Kyoto guide-in-chief, and her love for the city is infectious. She's got an uncanny ability for giving people just the right amount of information while still ensuring the tour stays light and fun. Be it temples and shrines, gardens, or nightlife, Mardi's your gal.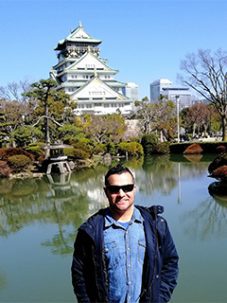 Dan
Dan is a Spaniard, so of course his Spanish is native level, but his English is fantastic as well. He's got a warm personality and consistently makes our guests feel like they've made a new friend within minutes of meeting him. He also knows Osaka and Kyoto like no one's business!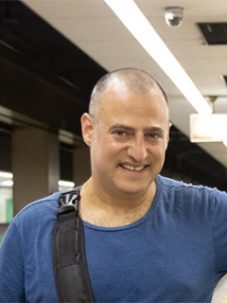 Levy
With nearly twenty years in Osaka, Levy's got this place WIRED. He's a major samurai and history aficionado, and in addition to knowing all the top sights like a true pro, he knows Osaka's nightlife better than (dare we say it!) the vast majority of Japanese who call Osaka home. Levy's originally from Israel, and runs tours in Hebrew too.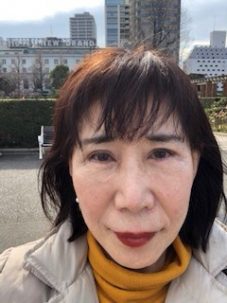 Suzie
Suzie is Japan born and raised, and we can't recommend her enough for tours in Tokyo and Yokohama. Our prior guests frequently say nicer things about Suzie than any of our own mothers have said about us! The consummate pro, she's not just got all the info, but also an uncanny knack for knowing what to show our guests.