Hiroshima – The Peace Memorial to Miyajima: Icons of Peace and Beauty
An Unforgettable Day Tour in Hiroshima
Greetings and welcome to Hiroshima, a city that bears both the weight of history and the enduring spirit of peace. We are thrilled to embark on this unforgettable journey with you, one that will not only reveal Hiroshima's captivating landscapes but also delve into the poignant lessons of the past.
Our tour is meticulously crafted, and our experienced guide will be your compass on this meaningful adventure. They are not just knowledgeable but also deeply passionate about Hiroshima's history and its commitment to peace. With their guidance, you'll gain profound insights and a personal connection to the city's remarkable narrative.
We believe in the power of attention to detail, and it's our commitment to ensure every moment of your journey is enriching. From the moment you set foot in Hiroshima to the time we bid you farewell at Hiroshima station, your experience will be seamless and infused with the essence of this remarkable city.
Starting at the Peace Memorial, you'll stand before the iconic Atomic Bomb Dome, a UNESCO World Heritage Site, and delve into the tragic events of August 6, 1945. Our guide will walk you through the museum, where exhibits offer a sensitive portrayal of the city's history and its unwavering commitment to peace.
We'll then venture into the heart of Hiroshima, exploring its bustling streets, vibrant culture, and delectable cuisine during our lunch break, with restaurant suggestions carefully curated to enhance your local culinary experience.
Next, we'll journey to Miyajima Island, a serene oasis that beautifully contrasts with the city's energy. Here, our guide's expertise will come to the fore as they lead you through the island's tranquil landscapes, explaining its historical significance and natural wonders. You'll have ample time to explore the island at your own pace, whether you choose to visit the Itsukushima Shrine, walk along its pristine shores, or sample local delicacies.
As the tour concludes at Hiroshima station, you'll carry not only memories of stunning landscapes but also a deep understanding of Hiroshima's resilience and its commitment to peace. It's our privilege to accompany you on this journey, and we look forward to creating lasting memories together.
Does this look like fun? Book tickets today!
Hiroshima Day Tour Overview 
Welcome to Hiroshima, a city where the echoes of history resonate with messages of peace, and the landscapes captivate the soul. Our expert-guided tour will begin at the Peace Memorial and end at Hiroshima station, taking you on an immersive journey via public transit to explore iconic landmarks and the serene Miyajima Island.
Unique Hiroshima
Hiroshima stands as a city like no other, where history, resilience, and a relentless pursuit of peace converge to create a unique tapestry of experiences. Its significance in World War II history, marked by the Atomic Bomb Dome and the moving Peace Memorial Park, serves as a somber reminder of the devastating power of conflict. Yet, Hiroshima's exceptional strength lies in its commitment to transformation and hope.


In Hiroshima, you'll witness a city that has risen from the ashes, thriving as a symbol of reconciliation and peace. The locals' warmth and hospitality, combined with the city's vibrant culture and delectable cuisine, offer an enriching experience for every traveler. Here, you'll find inspiration in the face of adversity, making Hiroshima a truly unique and compelling destination that touches the heart and soul of all who visit.


Hiroshima Peace Memorial Park: Where Hope Arises from Tragedy
In the heart of Hiroshima, amidst the vibrant cityscape, lies a place that transcends time and emotion—Hiroshima Peace Memorial Park. This sacred sanctuary stands as a testament to the enduring spirit of humanity in the face of unimaginable adversity.
Here, amid serene greenery and tranquil waters, you'll find a solemn reminder of the past and a beacon of hope for the future. At its center, the Atomic Bomb Dome, a UNESCO World Heritage Site, stands as a stark witness to the devastating events of August 6, 1945. Yet, within this poignant setting, a message of peace resounds stronger than ever.
As you walk through the park's winding paths, you'll encounter the Cenotaph for the A-bomb Victims, where countless paper cranes symbolize the world's collective wish for peace. Nearby, the eternal Flame of Peace burns brightly, a testament to our commitment to a world free from nuclear weapons.
We will also step into the poignant Hiroshima Peace Memorial Museum, a solemn tribute to the enduring spirit of hope and resilience. This powerful museum offers profound insights into the tragic events of August 6, 1945, and serves as a testament to humanity's unwavering pursuit of peace.
Hiroshima Peace Memorial Park is a place where history is not forgotten but transformed into a powerful force for change. Our guided tour will lead you through its hallowed grounds, offering profound insights into the city's past and its unwavering dedication to promoting peace and reconciliation.
Join us on a journey that will touch your heart and soul. Explore the Peace Memorial Park, where the shadows of the past merge with the dreams of a peaceful tomorrow.
Itsukushima Shrine and Tenshinkaku: Awe-Inspiring Serenity on Miyajima Island
Prepare to be transported to a realm of transcendent beauty and serenity as we introduce you to Itsukushima Shrine on the picturesque Miyajima Island. This is not merely a place; it's a profound experience that will leave an indelible mark on your soul.
Imagine a grand Shinto shrine, exquisitely crafted with precision and devotion. Now, envision it standing on the very edge of the Seto Inland Sea. But here's the magic: during high tide, the shrine appears to float on the water's surface, as if suspended between the earthly and the divine. It's an architectural marvel that evokes a sense of wonder and reverence.
As if nature itself were an artist, a colossal torii gate, the "floating gate," stands proudly in the sea, guarding the sacred shrine. During high tide, it stands majestically surrounded by the sea, and during low tide, you can approach it with a sense of intimacy one rarely experiences during a day of tourism. This gate symbolizes the harmonious relationship between humanity and the natural world.
Inside the shrine, tranquility reigns. The subtle interplay of light and shadow on the polished wood, the gentle sound of waves in the background, and the whispers of ancient rituals create an atmosphere that encourages reflection and inner peace.
Itsukushima Shrine isn't just a destination; it's an encounter with profound beauty and timeless spirituality. Join our tour to experience the awe-inspiring grace of Itsukushima Shrine, where the boundaries between the earthly and the divine blur, and where moments of contemplation become memories that last a lifetime.
Also to behold – Tenshinkaku, the "Pavilion of Heavenly Spirits," is a serene retreat nestled in a peaceful setting. This elegant pavilion showcases Japanese architectural beauty with intricate wooden design and traditional tatami interiors, offering a glimpse into Japan's rich heritage.
As you step inside, a sense of tranquility envelops you, heightened by the soothing sounds of nature. Tenshinkaku provides a serene retreat for contemplation and cultural immersion. Join our guided tour to discover the stories behind this hidden gem and experience the timeless charm of this serene oasis.
Miyajima Island Stroll: Nature, Culture, and Culinary Delights
Prepare to embark on a captivating journey through the enchanting Miyajima Island, where every step is a revelation and every sight a testament to the wonders of Japan's natural and cultural heritage.
Miyajima is like stepping into a dreamscape : serene streets flanked by traditional Japanese architecture, vibrant red maple trees, and the gentle presence of sacred deer. These friendly, free-roaming deer have long been regarded as messengers of the gods and offer an endearing encounter with nature.
During our one hour guided tour we will explore the serene nature and hills behind the shrine. and gain a deeper knowledge and appreciation for these environs.
During your hour of free-time before departure, your stroll through the island's charming streets will lead you to vibrant shops and stalls. Be sure to sample local delicacies like Momiji Manju, delectable maple-leaf-shaped cakes filled with sweet or savory fillings.
As you explore further, you'll discover hidden treasures, from quaint boutiques offering handcrafted souvenirs to traditional tea houses where you can savor the tranquility and the flavors of Japan.
Miyajima Island is not just a destination; it's an immersive experience that invites you to discover the soul of Japan. So, join our Miyajima Island Stroll, where the beauty of nature, the warmth of local culture, and the flavors of traditional cuisine converge to create unforgettable memories. It's a journey that will leave you in awe of the island's unique charm and the hospitality of its people.
At the end of this hour of free-time we will gather at the ferry for our trip back to central Hiroshima.
Does this look like fun? Book tickets today!
Quick Tips for Our Hiroshima Day Tour
There are a couple of things we'd like you to take note of before joining us.
Please come wearing comfortable shoes. We do a fair bit of walking around Hiroshima.

Inclusions:
Professional tour guide.
Public transportation fares (tram and ferry).
Entrance fees to Peace Memorial Park and Itsukushima Shrine.
Guided tours and commentary at each location.
Free time for personal exploration.
Exclusions:
Personal expenses (souvenirs, additional snacks, etc.).
Travel insurance.
Lunch
Any additional activities or meals not mentioned in the itinerary.
Options:
Pickup can be arranged at Hiroshima station for an additional fee
Easy Access
As we are meeting up at our first spot on the itinerary, the Peace Memorial, meetup is easy and stress free. We also offer pick-up at Hiroshima station for an added fee.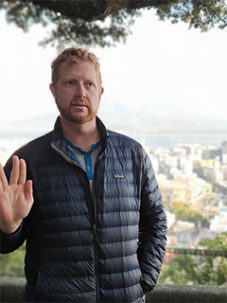 Kevin
We think it's important that everyone who works for Pinpoint Traveler is an active guide too, even the owner. Kevin's been in Japan thirteen years, but spent the first ten in the corporate world. Now he shares his love for Japan outside the confines of the office.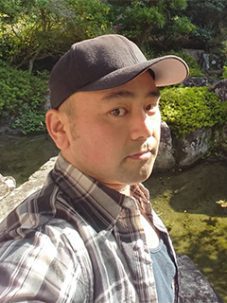 Shoji
Born in Japan, but moved to Canada when he was still quite young, Shoji is back and ready to share is passion for Japan with you. His main dominion is Osaka and on down to Koya-san and Wakayama, but he's such a popular guy that we often send him even further afield by request.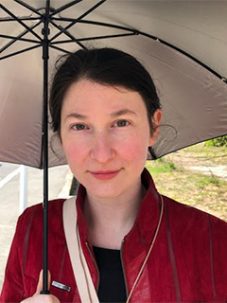 Mardi
Mardi's our Kyoto guide-in-chief, and her love for the city is infectious. She's got an uncanny ability for giving people just the right amount of information while still ensuring the tour stays light and fun. Be it temples and shrines, gardens, or nightlife, Mardi's your gal.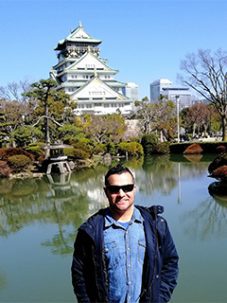 Dan
Dan is a Spaniard, so of course his Spanish is native level, but his English is fantastic as well. He's got a warm personality and consistently makes our guests feel like they've made a new friend within minutes of meeting him. He also knows Osaka and Kyoto like no one's business!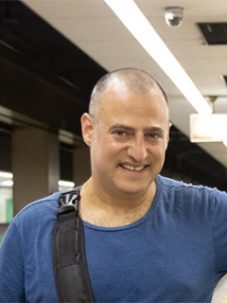 Levy
With nearly twenty years in Osaka, Levy's got this place WIRED. He's a major samurai and history aficionado, and in addition to knowing all the top sights like a true pro, he knows Osaka's nightlife better than (dare we say it!) the vast majority of Japanese who call Osaka home. Levy's originally from Israel, and runs tours in Hebrew too.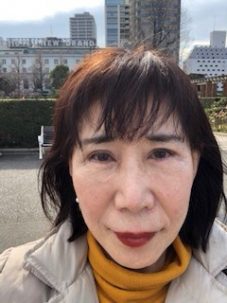 Suzie
Suzie is Japan born and raised, and we can't recommend her enough for tours in Tokyo and Yokohama. Our prior guests frequently say nicer things about Suzie than any of our own mothers have said about us! The consummate pro, she's not just got all the info, but also an uncanny knack for knowing what to show our guests.