Private Hiroshima Nighttime Local Foodie Tour
From ¥11,00/person
(~US$100)
Includes Dinner and Drinks
Private Tour
3 Hours (approx.)
Up to 6 People
Our Hiroshima Food Tour
We believe a Hiroshima tour should be added to your Japan itinerary if you're visiting for a week or more. The immensity of the Hiroshima Peace Memorial Museum is something moving and to be reckoned with. Beyond that, there is of course Miyajima and other sights less visited. 
But when it comes to nighttime, Hiroshima's food scene deserves your full attention. The city also boasts super friendly people and an exceedingly walkable central dining and entertainment district. On our Hiroshima food tour, your native English speaking, Japanese-fluent guide will take you to restaurants where only locals generally tread. 
We also show you a kaleidoscope of other cultural sights along the way. All of this in a fun, well-paced way that will leave you loving Hiroshima even more than you expected. 
Plus, on our tours, all food and drink is included so there's no need to worry about surprise charges.
If you're into the foodie scene when you travel, you should also check out our Kyoto food tour and our Osaka foodie tour. We love showing off our favorite neighborhoods and taking visitors to the places we go to as locals. Come join us!
Why take our Hiroshima guided tour?
You could certainly explore the food scene in Hiroshima on your own, but we can promise you'll be missing out. Our tours never take you to the overrun spots where every tourist goes. Instead, we opt for lesser-known streets or neighborhoods and get our grub going alongside locals. We know these places because we are locals. 
Your Hiroshima guided tour is led by a professional guide who lives here and absolutely loves showing visitors around like friends. 
You'll learn, eat, and laugh so much more than if you wandered around aimlessly without our local insight.
If you have any questions at all, feel free to contact us. We're always happy to help!
Does this look like fun? Book tickets today!
Hiroshima Food Tour Overview
Your Hiroshima private tour includes plenty of food…but first we like to start things off with a bit of cultural insight and a neighborhood stroll. It helps us to build up an appetite as well as a better understanding of what the food scene is all about here. 
We'll start off in Hiroshima's traditional covered shopping arcade. While other cities' "shotengai" have faltered in the face of big malls and online sales, Hiroshima's grand shopping streets still thrive. We walk along this prado for a bit before shifting to a street that runs just one parallel. The scene noticeably changes, with the fashion being a bit more on the fringe and the restaurants more atmospheric. 
In this backstreet area, there's also a supermarket we just love showing our guests! Over the course of just a few minutes, you'll learn about the commonly-used meats and vegetables; the basis of Japanese flavors. You'll also learn an easy way to know when something's beer and when it's not, plus more fun foodie insights!
Putting the Food in this Hiroshima Foodie Tour
After working up an appetite and gaining that knowledge of local food and drink, it will be time to visit our first "tachinomi" of the night. Loosely translated to "standing bar" but more akin to a tapas bar than a pub, tachinomi are social spaces where the food is freshly-prepared and utterly delicious. We might sit or stand, but we'll certainly be ordering well. 
A note about our food tours: 
We absolutely never serve endangered species (we are very serious about this), no raw chicken, and there is no cat or dog meat either (Japanese don't eat cats or dogs anyway). 
If you are a vegetarian, vegan, or have another dietary restriction (or even simply an arbitrary dislike), you should (ideally) just let us know in advance and we'll make thoughtful arrangements. 
Over the course of our Hiroshima food tour, there will be about 1.5 hours of walking around and exploring and about the same amount of time eating. We think breaking up the food parade with strolls makes for a better balance than a non-stop chowfest. 
The three restaurants we go to over the course of this Hiroshima private tour will all have: 
(1) Super delicious food; 
(2) An included alcoholic on non-alcoholic drink of your choice; and 
(3) An abundance of local character(s)! 
The restaurants may change based on what's open that night but we know quite a few, so you'll be in good hands with your local guide.
Take a Walk on the (Slightly) Wild Side
With some food and drinks fortifying you, we'll take a little walk through Hiroshima's main entertainment district. There's nothing lewd, but there will be some interesting sights and discussions about what modern Japanese nightlife is like. 
While it is not sleezy or dangerous, it is quite interesting from an anthropological perspective. Pretty interesting from a layman perspective, too! This is where it's super helpful to have the insight of a local on your Hiroshima guided tour.
Does this look like fun? Book tickets today!
Quick Tips for Our Food Tour in Hiroshima
There are a few things we'd like you to take note of before joining us.
The legal drinking age in Japan is 20

While not overtly risque, the tour includes commentary and contents that may not be suitable for pre-teens

Please come wearing comfortable shoes, and dress for some time both indoors and outdoors
Inclusions:
A dinner's worth of food across three different restaurants

Up to three alcoholic or non-alcoholic drinks (one at each stop).
Exclusions:
Drinks beyond the three provided (you can purchase more directly from the restaurant if you wish)
Options:
Would you like to have a guide come early and escort you to the Hiroshima food tour start point? This is available from central Hiroshima locales for 4,000 yen. Please let us know at the time of booking if you are interested in this service.
Historic and Cultural Landmarks
We leave the historic bits of Hiroshima to your daytime touring. What we've got in store for your Hiroshima private tour is pure, delicious cultural immersion.
Easy Access
We meet in front of Tiffany's at a major intersection. You'll probably be able to walk there from where you're staying.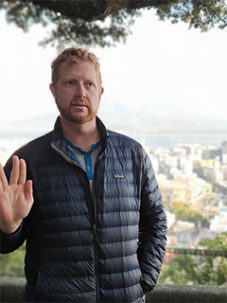 Kevin
We think it's important that everyone who works for Pinpoint Traveler is an active guide too, even the owner. Kevin's been in Japan thirteen years, but spent the first ten in the corporate world. Now he shares his love for Japan outside the confines of the office.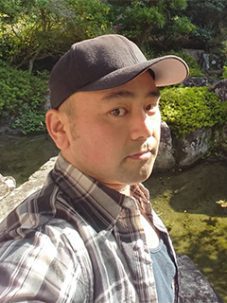 Shoji
Born in Japan, but moved to Canada when he was still quite young, Shoji is back and ready to share is passion for Japan with you. His main dominion is Osaka and on down to Koya-san and Wakayama, but he's such a popular guy that we often send him even further afield by request.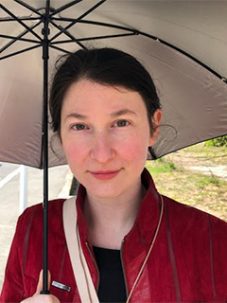 Mardi
Mardi's our Kyoto guide-in-chief, and her love for the city is infectious. She's got an uncanny ability for giving people just the right amount of information while still ensuring the tour stays light and fun. Be it temples and shrines, gardens, or nightlife, Mardi's your gal.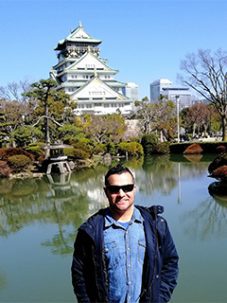 Dan
Dan is a Spaniard, so of course his Spanish is native level, but his English is fantastic as well. He's got a warm personality and consistently makes our guests feel like they've made a new friend within minutes of meeting him. He also knows Osaka and Kyoto like no one's business!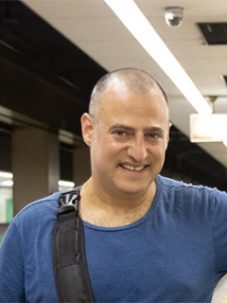 Levy
With nearly twenty years in Osaka, Levy's got this place WIRED. He's a major samurai and history aficionado, and in addition to knowing all the top sights like a true pro, he knows Osaka's nightlife better than (dare we say it!) the vast majority of Japanese who call Osaka home. Levy's originally from Israel, and runs tours in Hebrew too.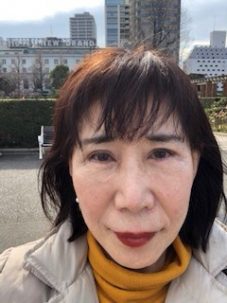 Suzie
Suzie is Japan born and raised, and we can't recommend her enough for tours in Tokyo and Yokohama. Our prior guests frequently say nicer things about Suzie than any of our own mothers have said about us! The consummate pro, she's not just got all the info, but also an uncanny knack for knowing what to show our guests.